The debit card and account that are miles ahead.
Earn KrisFlyer miles and interest when you spend and save on your KrisFlyer UOB Debit Card and Account. Now enjoy enhanced travel benefits.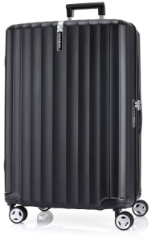 Apply and receive a 28" URS luggage plus 1,000 Welcome Miles*!
Simply charge a min. of S$3,000 to your
KrisFlyer UOB Debit Card within the
first 3 calendar months of your account opening date
and maintain a S$3,000 Monthly Average Balance
for two consecutive calendar months to
qualify. Promotion valid till 31 March 20.
Terms and conditions apply.

1
KrisFlyer Miles will be calculated for every S$5.00 of the monthly sum of your Eligible Transactions. Minimum S$1,000 deposit balance must be maintained in KrisFlyer UOB account to earn bonus KrisFlyer miles.
W.e.f 30 November 2019, please be informed that any payment made to Member Financial Institution – Merchandise and Services, Securities – Brokers and Dealers, Stored Value Card Purchase/Load, Betting/Track/Casino/Lotto and Political Organizations will be excluded from KrisFlyer miles awarding. For details, click
here
for the full KrisFlyer UOB Debit Card terms and conditions.
*With effect from 1 July 2019, new first time applicants of the KrisFlyer UOB Debit Card who are approved as Cardmembers on or after 1 July 2019 will receive 1,000 KrisFlyer miles when a single Eligible Transaction of at least Singapore Five Dollars (S$5.00) is successfully charged to his/her KrisFlyer UOB Debit Card.
Terms and Conditions governing KrisFlyer United Overseas Bank Limited Debit Card and KrisFlyer UOB Accounts and Services applies.
Spend exclusion applies.
Deposit Insurance Scheme:
Singapore dollar deposits of non-bank depositors and monies and deposits denominated in Singapore dollars under the Supplementary Retirement Scheme are insured by the Singapore Deposit Insurance Corporation, for up to S$75,000 in aggregate per depositor per Scheme member by law. Monies and deposits denominated in Singapore dollars under the CPF Investment Scheme and CPF Retirement Sum Scheme are aggregated and separately insured up to S$75,000 for each depositor per Scheme member. Foreign currency deposits, dual currency investments, structured deposits and other investment products are not insured.