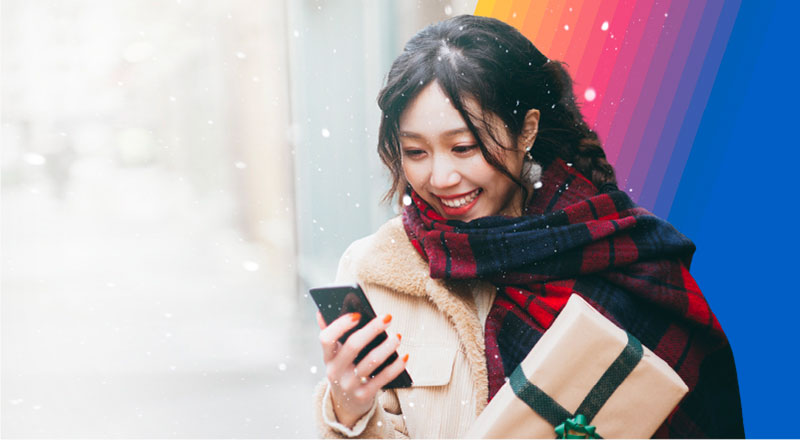 Mighty FX
Your multi-currency companion for your travel, online shopping and investment needs.
Attractive exchange rates at your fingertips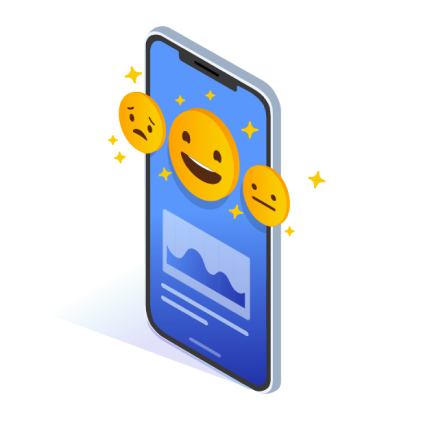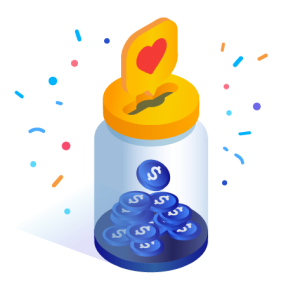 Zero admin fees
Pay with your Mighty FX Debit Card when you shop overseas or online and save on admin fees. Plus, there are no additional fees if you convert over a certain amount or during the weekend.
You'll love Mighty FX if you're:
Get started with 3 simple steps
It's much easier to convert currency at competitive rates.
1) Select the "Wealth" tab and tap on Mighty FX in your UOB TMRW app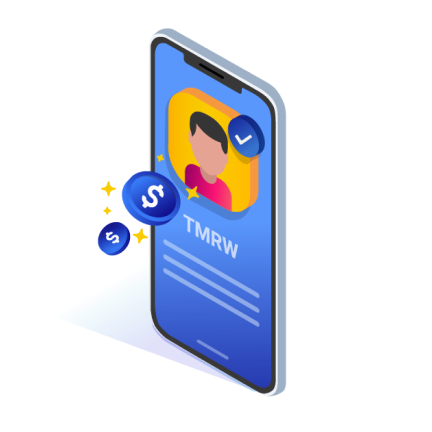 Choose the currency and amount you want to convert
3) Pay for your foreign currency spends with your Mighty FX Debit Card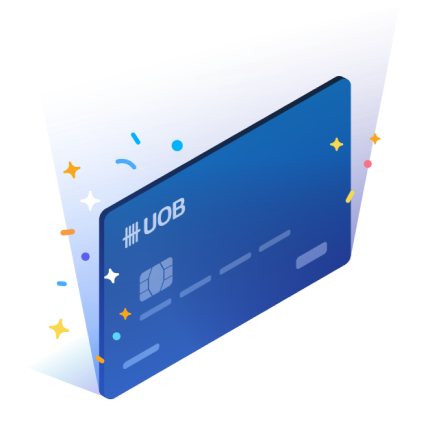 The exact amount will be debited from the relevant Mighty FX foreign currency account with no additional admin fees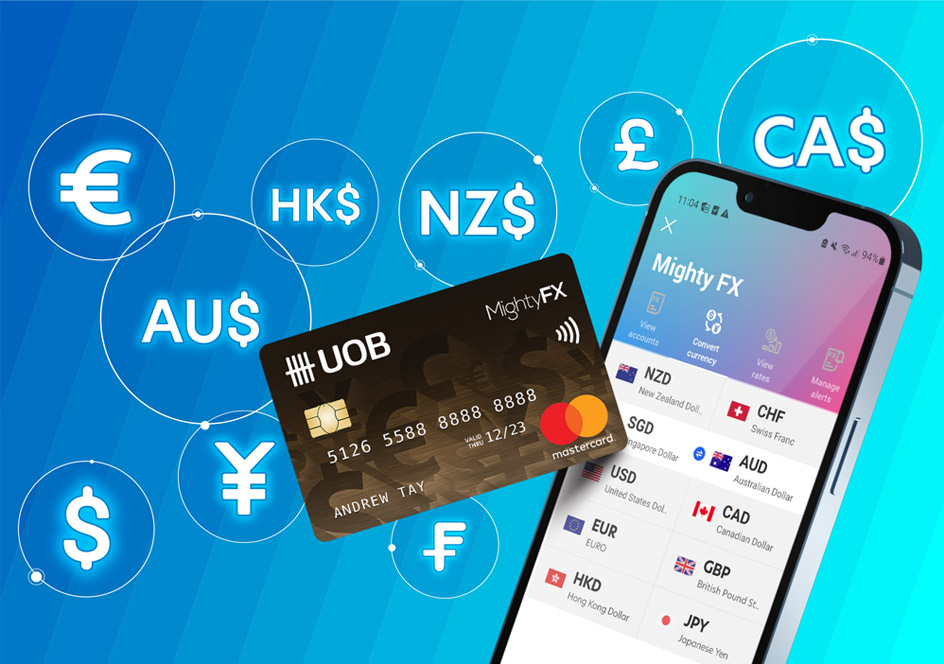 FX Fridays
On 3 March, 17 March and 31 March 2023, enjoy special rates* on the following currencies!
Things you should know
Actions or documents required
For Singaporeans and PRs
Sign up for Mighty FX online, get approval within minutes and start transacting instantly (where applicable).

How to apply:
Retrieve with MyInfo using Singpass login – applicable to new-to-UOB customers, existing to UOB customers and joint applicants 
Personal Internet Banking login details – applicable to existing UOB customers
Credit/Debit card number and PIN – applicable to existing UOB customers applying for single-named account application
For Foreigners and U.S. Persons
Please proceed to any UOB Branch for application. You will require:
Passport
Proof of Residential Address
Employment Pass / S Pass / Dependent Pass
Important notice and disclaimers
UOB Debit Cardmember Agreement
UOB Terms and Conditions Governing Accounts and Services
UOB Debit Card Fees and Charges
NETS Terms and Conditions

The information stated above serves as a consumer guide only. Please refer to uob.com.sg for UOB Debit Cardmember Agreement and Account Fees and Charges. Terms and Conditions governing Accounts and Services apply. Any customers using Mighty FX acknowledge and accept that all transactions they make are made solely upon their judgment and at their discretion and own risk. Nothing in UOB's brochures, investment reports and/or any of UOB's material supplied to the customer, nor any customer investment profiling conducted for the customer, shall be construed as UOB's investment advice as regards to the relative attractiveness of one investment option over another. Investors investing in investment and/or treasury products denominated in non-local currency should be aware of the risks of exchange rate fluctuations that may cause a loss of principal when foreign currency is converted back to the investors' home currency. Foreign currency trading is subject to rate fluctuations, which may provide both opportunities and risks. Customers who have any questions about their legal or tax positions as a result of opening an account with UOB or effecting any transaction on an account with UOB should engage an independent legal or tax adviser as they consider appropriate.
*Mighty FX special rates are only applicable to Mighty FX conversions from SGD to the relevant Mighty FX foreign currency on the dates specified.
Deposit Insurance Scheme
Singapore dollar deposits of non-bank depositors and monies and deposits denominated in Singapore dollars under the Supplementary Retirement Scheme are insured by the Singapore Deposit Insurance Corporation, for up to S$75,000 in aggregate per depositor per Scheme member by law. Monies and deposits denominated in Singapore dollars under the CPF Investment Scheme and CPF Retirement Sum Scheme are aggregated and separately insured up to S$75,000 for each depositor per Scheme member. Foreign currency deposits, dual currency investments, structured deposits and other investment products are not insured.
Please refer to UOB Insured Deposit Register for a list of UOB accounts/products that are covered under the Scheme.
Bundle up for even more benefits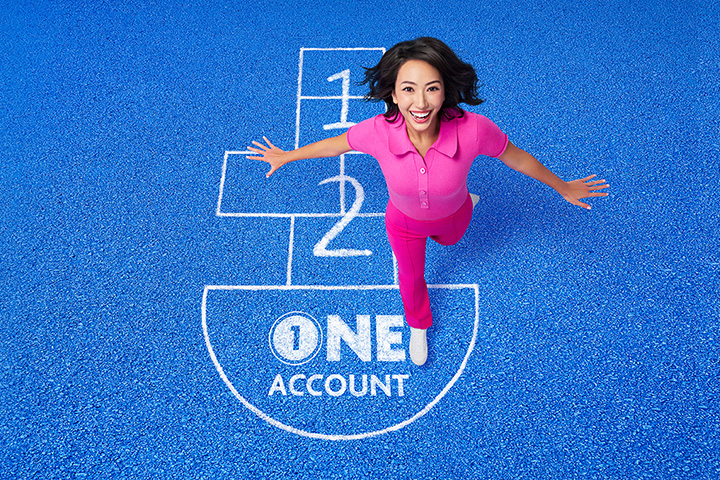 Mighty FX with One Account
Just 2 steps to earn higher interest on your savings.
Get up to 7.8% p.a.interestNEW! on your savings
Earn up to 10% cashback on daily spend with your UOB One Debit Card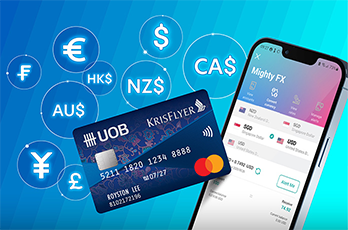 Mighty FX with KrisFlyer UOB Account
Accelerate the miles earned on your overseas spends without transaction fees.
Earn up to 6 bonus KrisFlyer miles for every S$1 you spend
Access exclusive travel benefits and privileges
Make banking simpler with these services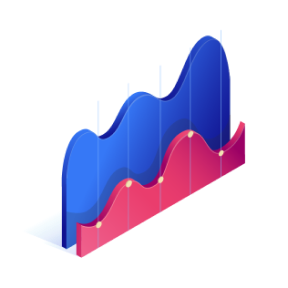 Get deeper insight into your travel expenses
Leave the hassle to us! We'll send you a summary of purchases and withdrawals made during your travels.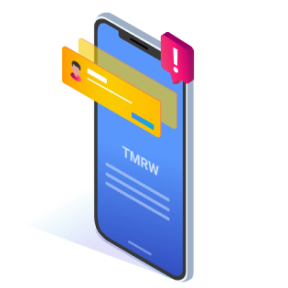 Get alerts about your account instantly
Leave the hard work to us! To safeguard your account, UOB Insights will let you know instantly if there are any unusual transactions.
Here's something else you may like
KrisFlyer UOB Account with KrisFlyer UOB Credit Card
Let your money take you further with KrisFlyer miles and exclusive rewards. Plus, earn up to 3 KrisFlyer miles for every S$1 spent, along with perks like Welcome miles and airline privileges.
UOB One Account with UOB One Card
Just 2 steps to earn up to 7.8% p.a.interestNEW! when you spend on an eligible credit card and credit your salary or make 3 GIRO debit transactions monthly. Score cashback of up to 10% when you use the UOB One Credit Card.
UOB Stash Account
Accumulate even more savings with up to 5.0% p.a. interestNEW! when you maintain or increase your Monthly Average Balance.
We're here to help
Have a question?
Contact us
Locate us