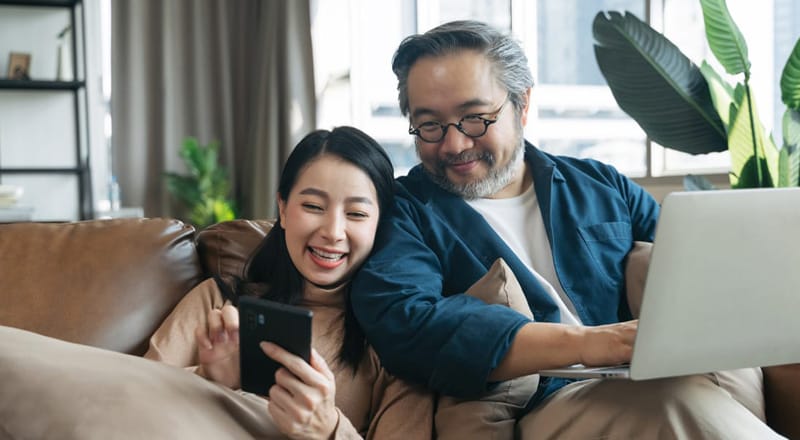 Global Currency Account
Enjoy flexibility and control over your money in 10 foreign currencies.
Seamless foreign currency transactions, without conversion fees
Transact with foreign currencies anytime
Enjoy the convenience of transferring foreign currencies via telegraphic transfers, cheques or convert from any of your Singapore Dollar accounts to make payments with ease.

We support up to 10 major foreign currencies: USD, AUD, GBP, CHF, CAD, NZD, EUR, HKD, JPY and CNH.
Fast clearing for USD Cheques
Enjoy the convenience of a three-day cheque clearing system for Global Currency Accounts held in US dollars.
Things you should know
Eligibility
Age
21 years old and above
Non-residents who wish to open an account will require an introducer.
Requirements for Foreign Currency
| | | |
| --- | --- | --- |
| Currency | Initial deposit and min. average daily balance | Min. balance fee |
| US Dollar | USD 1,000 | USD 10 |
| British Pound | GBP 650 | GBP 7 |
| Euro | EUR 900 | EUR 9 |
| Australian Dollar | AUD 1,700 | AUF 17 |
| Canadian Dollar | CAD 1,700 | CAD 16 |
| New Zealand Dollar | NZD 2,000 | NZD 20 |
| Hong Kong Dollar | HKD 7,800 | HKD 80 |
| Japanese Yen | JPY 150,000 | JPY 1,500 |
| Swiss Franc | CHF 1,500 | CHF 15 |
| Chinese Renminbi (Offshore) | CNH 5,000 | CNH 50 |
Important notice
Deposit Insurance Scheme
Singapore dollar deposits of non-bank depositors and monies and deposits denominated in Singapore dollars under the Supplementary Retirement Scheme are insured by the Singapore Deposit Insurance Corporation, for up to S$75,000 in aggregate per depositor per Scheme member by law. Monies and deposits denominated in Singapore dollars under the CPF Investment Scheme and CPF Retirement Sum Scheme are aggregated and separately insured up to S$75,000 for each depositor per Scheme member. Foreign currency deposits, dual currency investments, structured deposits and other investment products are not insured.
Please refer to UOB Insured Deposit Register for a list of UOB accounts/products that are covered under the Scheme.
Make banking simpler with these services
Track your transactions on the go
Use UOB TMRW to view, manage and keep track of all your transactions.
Easy access to your foreign currency
Make deposits or withdraw foreign currency at selected UOB branches.
Here's something else you may like
Mighty FX with One Account
An easier way to earn up to 2.5% interest p.a. on your savings. Plus, enjoy 24/7 access to 10 major foreign currencies at competitive rates.
KrisFlyer UOB Account
Travel further with 6 bonus KrisFlyer miles for every S$1 spent on eligible UOB cards and score travel benefits like Welcome Miles, discounts on adventures and more.
UOB Stash Account
Accumulate even more savings with up to 1% p.a. interest (equivalent to S$575) a year when you maintain or increase your Monthly Average Balance.