Bill payments made convenient!
Convenient: Pay swiftly and securely 24/7 from the comfort of your home, without the need to input your 16-digit card number. You can even schedule your bill payment!

Secure: Bank anywhere and everywhere securely with a personalised digital token.

Immediate: Avoid late payments. Pay your bills instantly anytime, anywhere.
How to pay via UOB TMRW: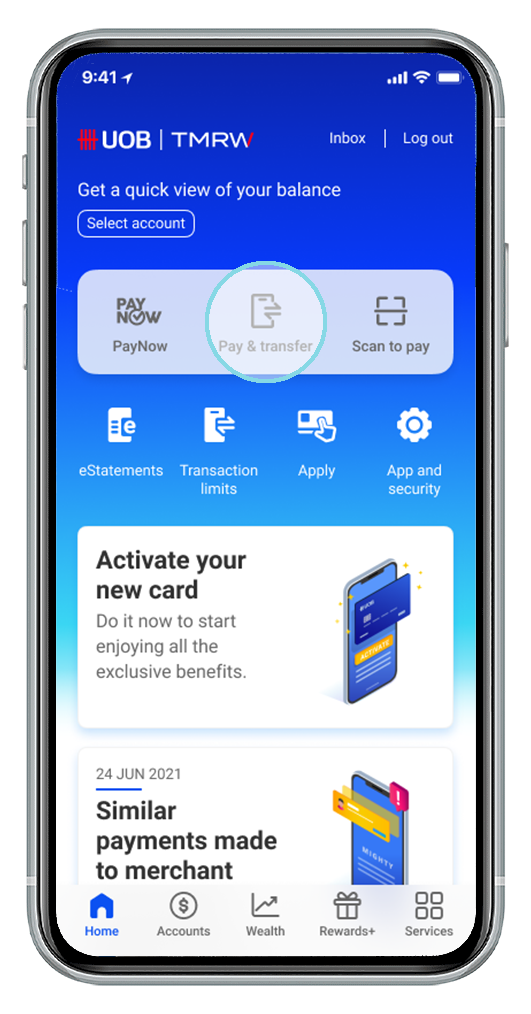 Step 1
Login to TMRW and select "Pay/Transfer"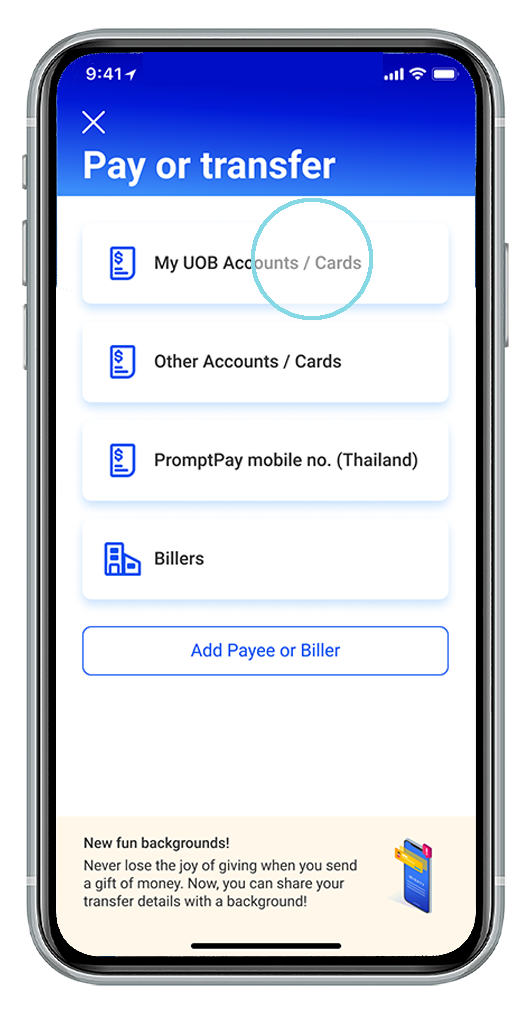 Step 2
Select "My UOB Accounts / Cards" and select the card you would like to make payment for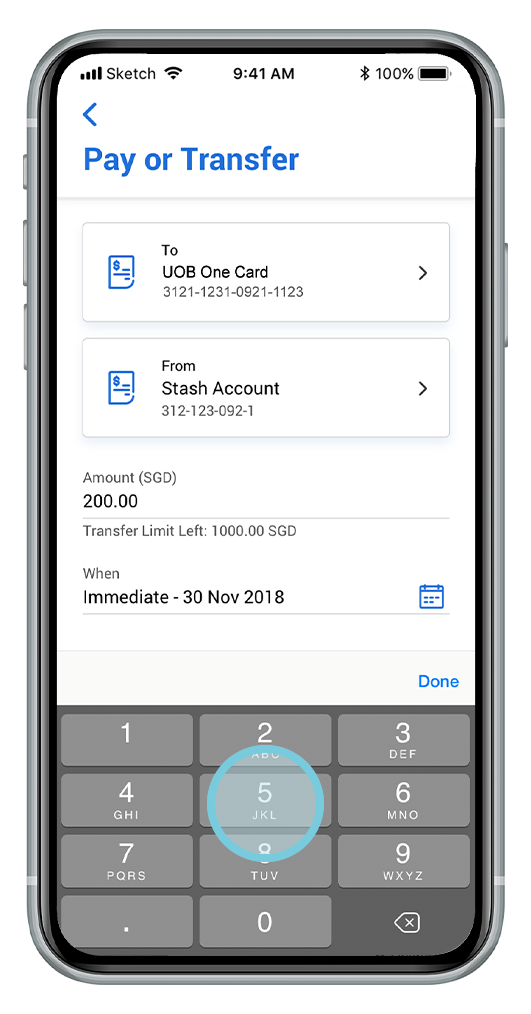 Step 3
Enter the amount you wish to pay, or choose between making a minimum or full payment. You can even schedule your payment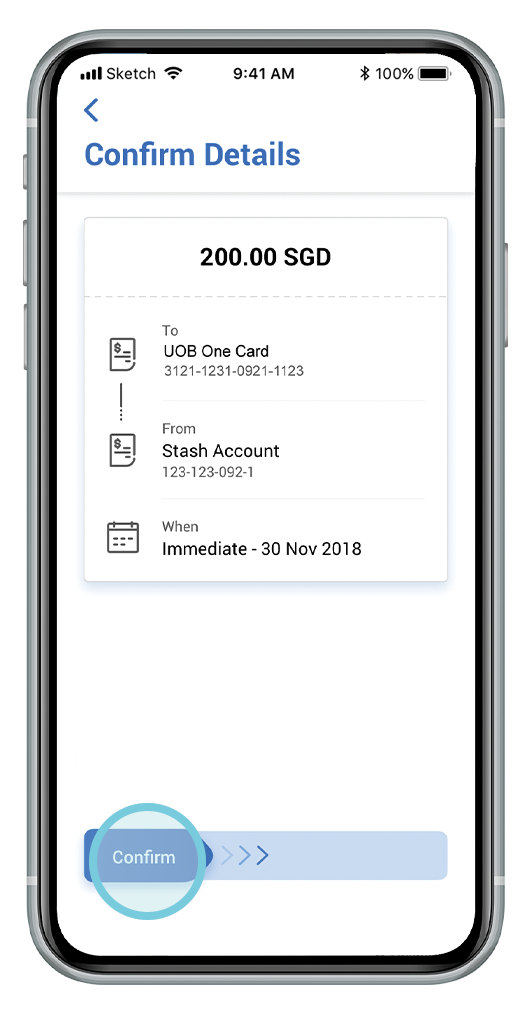 Step 4
Review the details and slide the "Confirm" button to complete your payment
Payment can be made via UOB Personal Internet Banking with your UOB Savings/Current account. Here's how:
Login to Personal Internet Banking
Click on 'Pay Bills' under 'Pay and Transfer' from the panel on the right
Click on 'My Credit Card Bills' tab and select the credit card you would like to make payment for
Select the payment amount option from 'Pay min.' or 'Pay full' or 'Other amount' to enter an alternative amount.
The payment date is defaulted as the date of request. For other dates selection, please tap on the calendar icon.
Select the Debiting account and click on 'Continue'
In the confirmation screen, check all details and click on 'Confirm' Your bill payment is completed!
Payment may also be made by UOB Phone Banking service at 1800 22 22 121 (24-hour) with your UOB Phone Banking PIN.
Payment may be made with your UOB Savings/Current account(s); or a DBS/POSB/OCBC ATM/Debit Card at any UOB ATM islandwide.
When using other banks' card,
Press any key and select "UOB Credit Card Payment"
Select "UOB Account(s)" or "DBS/POSB/OCBC Account"
Insert your UOB Credit Card or enter your UOB Credit Card number
Follow the onscreen instructions to complete the transaction
Payment will be debited automatically 1 working day before the payment due date from your designated bank account as indicated in your InterBank GIRO (IBG) form. Please ensure sufficient funds in your bank account to avoid any returned GIRO fee. No payment reminder alerts will be issued for GIRO payment arrangements.
Please click here to download the form.
Note: If you wish to make any advance payment via other mode to release your available credit limit, please make the payment 5 working days before the payment due date to avoid the GIRO deduction.
Payment may be made via NETS at Singapore Post Self- Service Automated Machine (S.A.M) or AXS.
Cash payment is accepted at any of our local branches or UOB Cash Deposit Machines.
Please be informed that with effect from 1 Feb 17, all UOB branches will process credit card bill payments above S$2,000 only.
Please follow the below steps:
Cheques should be crossed and made payable to "UOB Card Centre"; and
Indicate your card number(s) and amount on the reverse side of your cheque and Payment Advice.
Please send your cheque to us via the below modes:

Drop your cheque at any UOB Quick Cheque Deposit box; or
Download and print a business reply envelope at uob.com.sg/bre or mail your cheque to us at:



UOB Cards and Payments
Robinson Road P.O. Box 1688
Singapore 903338