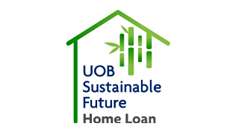 Sustainable living is the new normal. You've taken that crucial first step by choosing a home awarded with the BCA Green Mark. Now take it one step further with the UOB Go Green Home Loan, a unique financing solution designed to fulfill your home buying needs while reducing your carbon footprint and ownership costs, so you can live in a greener, more sustainable manner.
Not sure if your home has been awarded the BCA Green Mark? Verify it here.
With no complicated verification processes, UOB can help you wake up to greener living instantly, within minutes1.