Whether you are a homeowner or a tenant, chances are, you have devoted plenty of time and energy into your home.
Even after renovating or furnishing the place, you no doubt have continued to add personal touches to make your home truly your own.
But have you given any thought to what would happen to your precious home in an unexpected event?
Household fires are not as uncommon as you think
It may surprise you to learn that the Singapore Civil Defense Force (SCDF) responded to an average of 3.2 fires in residential premises per day in 2019. The most common causes for household fires included unattended cooking and discarded items in common areas catching fire – those scenarios sound like they could happen anywhere, don't they?
3.2 fires in residential premises per day in 2019

The daily average number of responses by Singapore Civil Defense Force (SCDF) in 2019
There was also a stark increase in fires involving Personal Mobility Devices (PMDs), which rose 96.2%, and Power Assisted Bicycles (PABs), which rose 40.9%, compared to 2018.
Is fire insurance alone enough?
Many mortgage providers require you to purchase fire insurance as a condition for your home loan, as does HDB for those taking out an HDB loan on their flats. Some tenants would also have fire insurance coverage provided by their landlords or the development they are staying in.
You may have the misconception that fire insurance provides sufficient coverage for your home contents – this is not true. Fire insurance only covers the internal structure of your home, including the original fixtures and fittings, but not your renovation works, furniture and personal belongings. The cost of refurbishing your home and replacing these items could add up significantly in the event of a fire.
This is where home insurance coverage can plug the gap.
What is home content insurance coverage?
Home content insurance is typically meant to provide complementary coverage to your fire insurance. Besides fires, home content insurance also covers you against other scenarios such as leaks, flooding from burst pipes, break-ins and even ceiling fan collapses.
It covers interior renovations, fittings such as built-in cabinets, appliances such as air-conditioners, furniture and household content such as cash, jewellery, works of art and electronic devices.
What to look for in a comprehensive home content insurance plan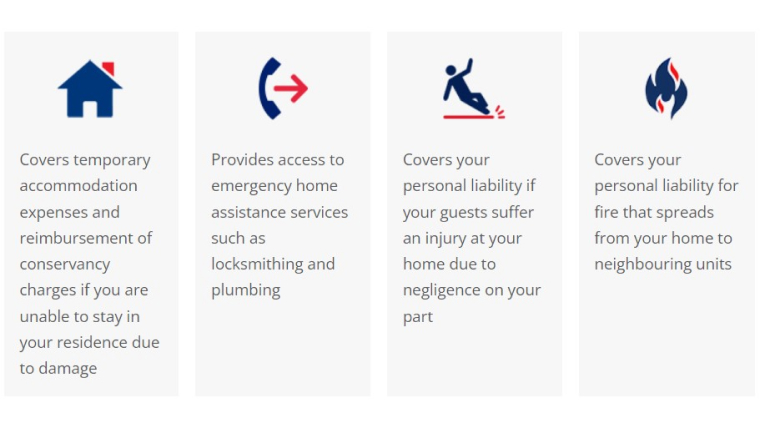 Home content insurance goes further. It even covers your temporary accommodation expenses and reimbursement of conservancy charges if you are unable to stay in your residence due to any damage.
Another value-add that good home content insurance plans provide is access to emergency home assistance services, for example, in the form of a dedicated 24-hour hotline that provides referrals for locksmithing, plumbing and other such services. This gives you peace of mind so you do not have to worry about who to call during emergencies.
In fact, home content insurance even covers your personal liability for a number of scenarios that you may not have considered.
For instance, if someone holds a gathering and one of the guests unfortunately suffers an injury, the host could be found liable for the injury and medical expenses. Another example would be if a fire breaks out in one's home and spreads to the neighbouring units, or if a burst pipe causes flooding in the adjacent properties. The home owner could also be liable for those damages. Home content insurance covers your personal liability for these scenarios and more.
Don't neglect comprehensive insurance coverage for your home
Just as you may review your other insurance policies periodically, you may want to review your home content insurance policy at the right intervals.
For instance, due to work-from-home arrangements, you may have invested in a home office, complete with new ergonomic office furniture and sophisticated computer equipment. It would make sense to review your home content insurance coverage in such an instance.
Not having home content insurance may be a risk you either did not know you had or were taking a chance on. But such a risk is probably not worth taking on something as precious as your home.