Cloud kitchens or ghost kitchens have gained popularity as more restaurant operators lean into food delivery to serve customers who prefer to dine at home.
Cloud kitchens are professional cooking and food preparation facilities that cater for delivery or take-away meals. While they can operate as stand-alone kitchens, traditional restaurant operators are also working with cloud kitchens to expand their delivery reach and leverage their brand value at a lower cost.
During the global pandemic, food delivery has seen the greatest shift in buying behaviour across Indonesia, Malaysia, the Philippines, Singapore, Thailand and Vietnam. In a survey by Google, Temasek and Bain & Company, 34 per cent of 4,712 respondents cited a shift in preference for online food delivery during the 2020 COVID-19 lockdowns across the region.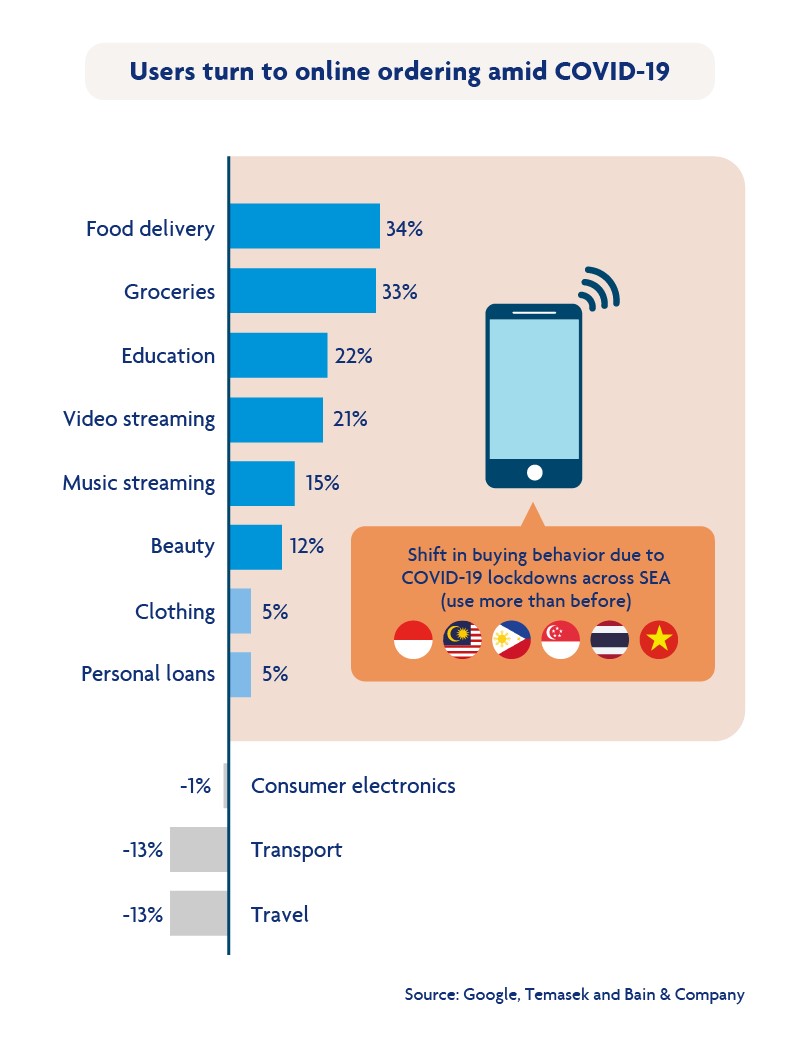 Delivery operators across Southeast Asia such as Go-Jek, Grab and Foodpanda are actively adding on cloud kitchens to enable their restaurant partners to acquire more customers. In fact, the global cloud kitchen market is expected to reach US$71.4 billion by 2027, and Asia Pacific is expected to be the largest market growing at 14.4 per cent from 2021-2027.
Costs of setting up a restaurant vs. a cloud kitchen
With cloud kitchens, F&B businesses no longer need to commit large capital to operate their businesses and can even use cloud kitchens to test market readiness.
Setting up a restaurant can be expensive. The estimated cost of setting up a restaurant in Kuala Lumpur is between MYR500,000 (S$159,000) to MYR1 million (S$318,000) covering rent, utility deposits, licenses, operating costs and stocks. In Singapore, setting up an F&B business typically costs between S$50,000 to S$500,000, depending on factors like size and location. Cloud kitchens help food businesses grow and operate in distributed locations without relying on just a single outlet and without multiplying the costs significantly with each additional location.
At the same time, a large floor space in a restaurant becomes underutilised when dining in is not allowed. And with social distancing rules, tables are spread out – reducing the revenue generated per square metre. Pre-pandemic, 70 per cent of a restaurant's floor space was dedicated for dining, 20 per cent for kitchen space and 10 percent for operations and storage space.
In contrast, cloud kitchen rentals start from S$3,300 per month for 150 square feet in Singapore. These spaces are equipped with air-conditioning, exhaust pipes and basic kitchen equipment, allowing F&B operators to get started quickly without bearing high operating costs.
In fact, Indonesian cloud kitchen startup, Yummykitchen, provides full kitchen operations for its customers. This means that F&B brands do not need to hire their own kitchen staff for food preparation and delivery. Instead, they can redirect their budget towards marketing, food innovation and quality.
Using technology and data to identify unmet needs
Grab Kitchen, currently the largest regional cloud operator in Southeast Asia, is leveraging on data from past orders to curate their food selections. Based on consumer insights and surveys, F&B operators will be able to identify which strategic location has the strongest customer demand. Cloud kitchens offering ground-level data reduces the entry barriers for restaurants to expand into new areas.
For instance, Grab was able to identify that the Geylang-Aljunied area in Singapore had unmet consumer demand for Japanese, Korean, Western fare, bubble tea and fried chicken. It opened its 56th cloud kitchen in the area to meet the demand with popular and established food brands that will supplement smaller local eateries.
Similarly, when Grab opened its first cloud kitchen in Malaysia in January 2021, popular restaurant brands such as myBurgerLab, Kenny Rogers Roasters and Salad Atelier were added based on local demand data. In fact, businesses across the region have seen 1.6 times more sales with their cloud kitchens than their regular outlets, according to Grab data.
With artificial intelligence (AI) technology, F&B owners do not have to manually contend with delivery orders and timings. AI can be used to help F&B staff make more informed decisions faster, thereby improving customer support and performance.
For example, Malaysia's cloud kitchen start-up, Pop Meals, uses logistics technology to manage riders and customer demand. Such AI-driven routing technologies leverage real-time data from riders, weather, and traffic information to allow businesses to better manage customer expectations and deliver food orders on time.
Dishing out more options
While the strictest lockdowns have likely passed, F&B operators are still trying to find a balance between business growth and rising costs, especially amid a labour crunch.
With the convenience of meals being delivered right to the front door, cloud kitchens can provide consumers with their mealtime cravings and help make F&B businesses more resilient.
At UOB, we understand your business needs including the daily challenges you face as a food and beverage company. Whether you run a catering service, restaurant, café or are looking to expand your operations in cloud kitchens, we are committed to help you grow and scale your business.
Important Notice and Disclaimers:
This article shall not be copied or relied upon by any person for whatever purpose. This article is given on a general basis without obligation and is strictly for information only. The information contained in this article is based on certain assumptions, information and conditions available as at the date of the article and may be subject to change at any time without notice. You should consult your own professional advisers about the issues discussed in this article. Nothing in this article constitutes accounting, legal, regulatory, tax or other advice. This article is not intended as an offer, recommendation, solicitation, or advice to purchase or sell any investment product, securities or instruments. Although reasonable care has been taken to ensure the accuracy and objectivity of the information contained in this article, UOB and its employees make no representation or warranty, whether express or implied, as to its accuracy, completeness and objectivity and accept no responsibility or liability for any error, inaccuracy, omission or any consequence or any loss or damage howsoever suffered by any person arising from any reliance on the views expressed and the information in this article.
This article was originally published by UOB ASEAN Insights.