While most SMEs say they have become more digital, smaller firms are still lagging behind in digital transformation and benefits, says a UOB study.
When Mr Glenn Poh, 42, launched crystal venture Gemstory as a passion project in 2013, he found the start-up process tedious.
"We were handling all the transactions in cash, and everything was documented manually with pen and paper," says Mr Poh, who had quit his high-paying job in a tech company to be his own boss.
"Putting together sales records and inventory tracking were huge challenges."
Mr Poh quickly turned to technology for help. He found a point-of-sale system (POS) online and implemented it to track his stocks and sales, and created a website to reach more customers.
But Mr Poh still found himself struggling – despite his background in IT. The POS system was not working well. And he didn't know of a better system.
Prospects took a stressful turn. In April 2020, the Covid-19 circuit breaker measures kicked in. Sales were frozen. And he had to pay his four full-time employees and the rent for his shop in Bras Basah Complex.
He knew he had to revamp his business and become more digital to reach more customers online. But how?
That's when Mr Poh chanced upon a social media post about UOB BizSmart. It offers a comprehensive suite of tailored digital solutions to help SMEs manage their business processes more efficiently.
The bank's customers can sign up on the UOB BizSmart website and leverage the expertise of its consultants for free.
With help from UOB BizSmart, Mr Poh replaced his POS system and implemented accounting and inventory management solutions. Such solutions have not only enhanced his productivity, he says, but also built more trust with customers from pricing transparency.
Mr Poh's initial challenges are far from unique. Many small and medium-sized enterprises (SMEs) were also forced by the pandemic to seek digital solutions to survive.

A glaring gap
A 2020 global survey by management consulting firm McKinsey and Company, found that the Covid-19 pandemic accelerated the pace of digitalisation of companies by three to four years.
"The pandemic expedited the need for smaller SMEs to find ways to digitalise to stretch their already limited financial resources, and survive," says Mr Lawrence Loh, managing director, Group Wholesale Banking, Business Banking Group, UOB.

The pandemic expedited the need for smaller SMEs to find ways to digitalise to stretch their already limited financial resources, and survive."

MR LAWRENCE LOH, managing director, Group Wholesale Banking, Business Banking Group, UOB
The UOB SME Outlook Study 2022 reveals that larger SMEs – defined as those with an annual revenue of $50 million to $100 million – reported a 56 per cent improvement in decision making with data-driven insights, and a 42 per cent increase in profitability.
For smaller SMEs with an annual sales turnover of less than $10 million, however, improvements stand at 29 per cent and 28 per cent respectively.
"This gap exists due to the difference in resources, which affects the scalability of the SMEs," says Mr Loh. "Smaller SMEs have limited resources, in terms of both finance and people.
"They also have a business model that's always evolving, as they adapt constantly to market changes in a bid to find the best-fit model for their business. Hence, they may not be able to digitalise easily to scale up."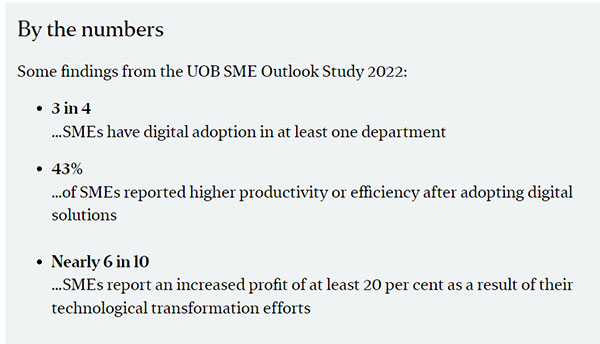 An end-to-end digitalisation journey
Ms Jaime Koh, 35, co-founder of Singapore-based boutique interior design studio HYJK Design, agrees. "Bigger SMEs and corporations have deeper pockets, and hence more buffers to play with. But for smaller companies like ours, cash flow is always an issue," she says.
Smaller SMEs like HYJK Design grapple with the upfront costs, from technology to manpower, when it comes to implementing new digital solutions.
Ms Koh, who works at HYJK Design with her husband, also a co-founder, and two full-time employees, says: "We have to train the staff ourselves, but when you're in the middle of critical projects, it's very difficult to put everything on hold to implement something entirely new."
Ms Koh adds that it can be confusing for business owners to make sense of the numerous grants available for SMEs, as well as their requirements.
What she found most useful working with UOB BizSmart consultants was the help they provided in managing her digitalisation journey end-to-end. This helped her save on an extremely tight resource: Time.
The team from UOB BizSmart visited the HYJK Design office to examine the existing processes, and recommended solutions.
For example, implementing bookkeeping productivity solution Dext, which integrates seamlessly with one of UOB BizSmart's accounting solutions Xero, helped Ms Koh and her employees save up to 90 per cent of the time they used to spend on data entry.
"They also applied for the grants on our behalf, and that really saved us a lot of time. If we were to do the research ourselves, we probably wouldn't even know where to begin," Ms Koh says.

Working together to empower SMEs
To help SMEs build digital capabilities and resilience, UOB launched a free SME app with embedded finance capabilities in Singapore last year. It provides SMEs with personalised insights and curated events based on their personas and financial transactions.
The app provides convenience while enabling SMEs to make better informed business decisions, says Mr Lawrence Loh, managing director, Group Wholesale Banking, Business Banking Group, UOB.
In countries where the app is not available, such as Thailand and Indonesia, UOB is helping to support SMEs through partnerships with e-commerce platforms. The partnerships offer small-ticket loans to micro businesses based on their transactional data.
"Typically, these micro businesses are deemed riskier as they are less able to prepare proper financials and have little to no financial history for credit underwriting by traditional banks," he says.
This is part of UOB's "ecosystem approach" to empowering SMEs, he says.
"Traditionally, SMEs rely on a network of suppliers, buyers, and service providers to run their business," explains Mr Loh. "Now that the participants of this network are pivoting to operate in a more digital manner, SMEs will have to leverage technology to help them to drive their continued business growth."
Led by the rapid rise of e-commerce businesses, UOB is also working with ecosystem players to unlock the "new economy", namely logistics and data centres.
The bank is working with institutional clients to enable new digital capabilities and infrastructure that can help businesses, including SMEs, stay competitive in today's fast-evolving landscape, says Ms Lim Lay Wah, managing director, Head of Global Financial Institutions Group, Group Wholesale Banking, UOB.
"At UOB, we have embraced these 'new economy' opportunities from a very early stage to co-create end-to-end risk management financial solutions, including green solutions, with our key global institutional clients," says Ms Lim.
The Future of Finance is a series that explores how digital solutions can empower individuals and businesses, creating a smarter, more sustainable world.
Kareyst Lin, Content STudio
PUBLISHED THE STRAITS TIMES
APR 17, 2022, 4:00 AM SGT