Singapore's growth, along with that of the rest of the world, remains under pressure as it grapples with prolonged disruptions to global supply chains and business operations, as well as financial shocks caused by the COVID-19 outbreak. According to advance estimates by the Ministry of Trade and Industry, Singapore's economy contracted 10.6 per cent on a quarter-on-quarter basis in the first quarter of 2020. Full-year GDP growth forecast has been downgraded to between -4 per cent and -1 per cent.1
Given the increasing severity and spread of COVID-19, and in the wake of a month-long Circuit Breaker period that started on 7th April, Deputy Prime Minister and Finance Minister Heng Swee Keat announced the new Solidarity Budget.2
This follows the Unity Budget and the Resilience Budget announced on 18th February and 26th March, respectively. This third tranche of S$5.1 billion takes the total government response to COVID-19 to S$59.9 billion, equivalent to roughly 12 per cent of Singapore's GDP.2
What does this mean for businesses?
The COVID-19 outbreak has already severely impacted the tourism, aviation and hospitality sectors in Singapore, and its effects continue to ripple through all other sectors including manufacturing, transport, food services, and retail trade.
The Resilience Budget and Solidarity Budget will help businesses, especially SMEs in these trying times, with key highlights below:
Enhancement of the Jobs Support Scheme announced in the Unity Budget:
- The Government will co-fund 75 per cent of wages (capped at S$4,600) for all local workers for the month of April.
- From May, the aviation, accommodation and tourism sectors will continue to receive support equivalent to 75 per cent of wages (capped at S$4,600). The food services sector will have 50 per cent of wages covered, while all other sectors will receive 25 per cent wage support. The Jobs Support Scheme will be in place for nine months, up to the end of this year.
Enhancement of cash flow and credit support measures announced in the Unity Budget:
- The Property Tax Rebate will be enhanced for qualifying properties to 100 per cent3, and all other non-residential properties will receive a 30 per cent property tax rebate4. The COVID-19 (Temporary Measures) Bill will ensure that property owners pass on the Property Tax Rebate to tenants.
- Rental waivers will be enhanced from 1 month to 3 months for stall owners of NEA-managed hawker centres; rental waivers have also been increased from 0.5 months to 2 months for eligible government agency tenants; and from 0.5 months to 1 month for for industrial, agricultural and office tenants of government agencies.
- The Temporary Bridging Loan Programme will be extended to all sectors, with the maximum loan quantum increased to S$5 million.
- The enhanced Working Capital Loan's maximum loan quantum will be increased from S$600,000 to S$1 million.
- The Enterprise Financing Scheme – Trade Loan's maximum loan quantum will be increased from S$5 million to S$10 million.
- The government's risk share for the Temporary Bridging Loan Programme, Enterprise Financing Scheme – Working Capital Loan, and Enterprise Financing Scheme – Trade Loan has been increased to 90 per cent.
- Under the Loan Insurance Scheme, the government will increase subsidies to businesses to 80 per cent (from 50 per cent).
- The monthly Foreign Worker Levy (FWL) due in April 2020 has been waived; and there is a FWL rebate of S$750 in April 2020 on levies paid this year for each Work Permit or S Pass holder.5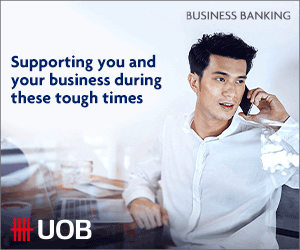 Enabling business continuity through digitalisation
These support measures come on top of existing initiatives by the Government to help SMEs to digitalise and to deepen their internal capabilities in order to be more resilient in these challenging times. One such initiative is the SMEs Go Digital programme by the Infocomm Media Development Authority (IMDA) to help SMEs adopt digital solutions to drive business productivity.
In support of IMDA's Stay Healthy, Go Digital campaign, United Overseas Bank (UOB) is committed to helping SMEs digitalise their operations for business continuity amid the COVID-19 outbreak.
Recognising the need for more of their employees to work from home to help combat the COVID-19 outbreak, SMEs are adopting remote working tools such as UOB BizSmart to maintain and drive further operational efficiency. UOB BizSmart is a suite of integrated cloud-based solutions to help SMEs manage core processes including sales, e-invoicing, payroll and accounting anytime, anywhere.
As footfall to brick-and-mortar retail spaces drop due to safe distancing measures, SMEs can also adopt e-commerce tools such as Shopmatic to tap new opportunities in the digital economy. Shopmatic, available via UOB BizSmart, helps SMEs to create online revenue streams by setting up a website within 15 minutes to start selling online. SMEs can also list their products and services on multiple marketplaces through Shopmatic's platform, which will integrate all listings and orders on a single dashboard so that SMEs can manage their online sales easily.
Under the SMEs Go Digital programme, SMEs can enjoy a subsidy of up to 70 per cent of their setup costs when they adopt UOB BizSmart.
UOB is committed to partnering SMEs through these times
Singapore's SMEs comprise a strong pillar of support for the local economy, and the government support measures will go a long way in helping them through these times.
In partnership with the MAS and our partners, we are rolling out these financing support measures and initiatives to help SMEs:
These include:
- UOB Business Loans come with an Enhanced Working Capital Loan, and a Temporary Bridging Loan for businesses affected by COVID-19. No collateral is needed, and the Bank will respond within one day.
- UOB Trade Loans with 80% subsidy for loan insurance premiums under the Loan Insurance Scheme.