An opinion piece by Mr. Mervyn Koh, Managing Director and Country Head, Business Banking Singapore, UOB
The World Economic Forum recently ranked Singapore as the world's most competitive economy. This success is due to the fact that the city-state provides an ecosystem in which businesses-from small to large-can thrive.
However, as a small and open economy, we cannot be complacent. Given the uncertainties from the US-China trade tensions to other geopolitical developments in key economies, Singapore's own economy could face pressures, especially for SMEs. So, it's imperative that SMEs receive support to help them remain competitive.
SMEs have an excellent ecosystem of support in Singapore
Thankfully, an abundance of support is available to help Singapore's SMEs navigate the current economic climate. The Singapore government is also mindful of the need to bolster businesses here. In a Facebook post, Singapore's Minister for Trade and Industry Chan Chun Sing attested to this sentiment: "We must continue to build on our strong fundamentals, improve the capabilities of our enterprises, transform our industries and ensure our workers are well-equipped with the right skills to stay competitive," he said.
Within an overarching ecosystem that supports SME growth, it is important that SMEs have the right tools to enable them to become more efficient, productive and resilient in the long term. This is particularly relevant as SMEs look to ride the wave of digitalisation.
Within an overarching ecosystem that supports SME growth, it is important that SMEs have the right tools to enable them to become more efficient, productive and resilient in the long term.
Cognisant of the pivotal contribution SMEs make to Singapore's economy in terms of output and employment, UOB focuses on working with SMEs and preparing them for building enduring competitiveness.
UOB supports SMEs with industry-based solutions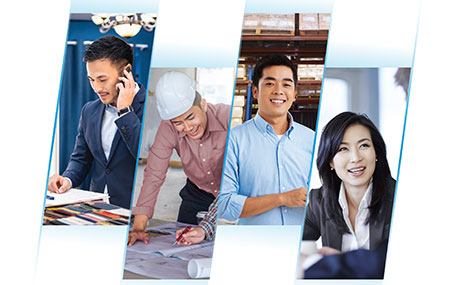 We gauge the needs of SMEs, from the type and nature of their businesses in Singapore, to provide customised solutions. Each business segment, whether it is a retailer, manufacturer, wholesaler or corporate institution, has a unique set of business constraints. The bank first identifies and understands the challenges a particular SME faces before proposing relevant solutions that enable each business to overcome these pain points and grow. We target our advice and support to meet the specific needs of various business types..
UOB has made consistent efforts in developing digital solutions and helping SMEs embrace them. UOB BizSmart, for example, is a cloud-based suite of integrated business solutions that helps SMEs manage their core processes, such as sales, payment collections, human resources and more. Connected to their UOB bank account, SMEs can access up-to-date information on their operations and financials on a single platform. By simplifying their operational processes through BizSmart, SMEs can focus on growing their businesses.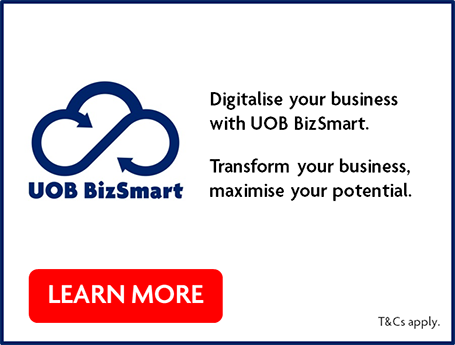 However, simply providing solutions is not enough. We appreciate the challenges SMEs face in the initial stages of technology adoption and can provide them with the support they require for digital implementation. To help SMEs navigate this journey, we offer digital clinics, at which SME employees receive hands-on support that help them embrace their digital endeavours.
We have also partnered with Google to launch the SME Leadership Academy, a training programme for SME leaders that aims to maximise business efficiency using technology.
The programme also guides SME owners on how they can effectively implement HR strategies to hire cohesive teams, develop sound organisational practices and create a collaborative workplace. And finally, it equips SMEs with the ability to develop strategic digital marketing collateral based on customer feedback. These are necessary skills to remain competitive in the digital age.
More than just banking services - a long-term promise to support and enable SME growth
SMEs face different challenges, which tend to become more acute when there are economic headwinds. This is why we have developed a host of initiatives and products specifically for SMEs.
It is highly encouraging that conversations around support for SME growth in Singapore have moved beyond just financing to encompass digitalisation, efficiency and productivity. And as a preferred banking partner in Singapore, UOB is committed to remaining a leader in these conversations.
UOB BizSmart Disclaimers:
UOB BizSmart Important Notes and Disclaimers apply. Please visit uob.com.sg/bizsmart for full information. The information provided in this document is intended for informational purposes only and may be subject to change at UOB's sole discretion.