Whether you are a first-time buyer or a seasoned one, the process of buying a commercial property can be tedious. When purchasing a commercial property, you will spend a lot of time looking, searching, and dealing with many documents as well as trying to understand a lot of unfamiliar jargons. You may end up wasting valuable time and resources that could have been better spent on your business.
Whether you are looking to buy a property for your growing business needs, or for investment reasons, you may have encountered one or more of the following issues.
Frustrations in accessing pertinent information across various property platforms; most commercial property listing platforms only post the barest details - size, price, tenure, and some basic information on the property's condition.
Not being able to obtain a loan that matches the selected property's valuation.
Failure to get a professional indicative valuation quickly, resulting in missed opportunities.
The new RealCommercial app makes the property-buying process more efficient and stress-free
RealCommercial app streamlines the various processes and simplifies the way you search for a new commercial property. Here's how.
Upfront loan eligibility: As the bank is involved in the process at the very start, you can determine the loan amount you qualify for, so you can focus on properties based on your needs and affordability.
Comprehensive information on listings: The app's detailed listings contain essential information you need to know before deciding on the property; such as the maximum load and height of the loading bays, amenities, public transportation, tenant mix, and voltage of the power supply etc.
You can also make use of the first-in-market comparison feature to compare information and any differences between your shortlisted properties for effective decisioning. The comprehensive nature of the information implies that you can minimise physical site visits to narrow down your list of prospects.
Credible valuations: The app will provide you with a professional valuation that's bank-backed, so you can purchase your property more confidently and quickly.
Access to a network of lawyers: Get connected to a network of lawyers to help you through all your conveyancing needs. Legal paperwork is a mandatory aspect of buying a property, and the app makes it easy to find a lawyer.
With the right platform, you can get matched with your ideal commercial property with greater clarity, convenience and confidence.
From getting your loan eligibility, browsing through suitable properties with greater clarity, getting the right valuation and being matched with a network of lawyers for conveyancing needs, RealCommercial App is the only all-in-one app, specially developed for those looking to buy commercial properties.
So, why wait? Download the RealCommercial app to make sure you get the right property in the most efficient way possible.
What's more, it's now easier to own your property with UOB Business Property Loan. With a minimum down payment of 10 per cent, this is the lowest down payment required by a bank in Singapore.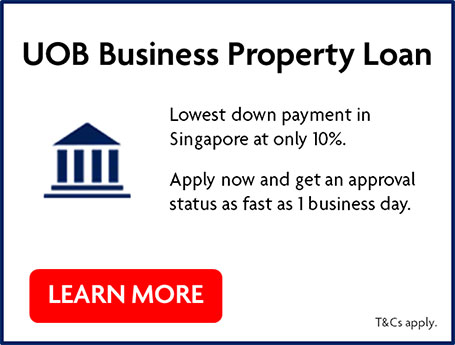 Terms and conditions apply.
Subject to the full terms and conditions for a UOB Property Loan, and internal credit policies.
Disclaimer: Nothing in the RealCommercial app shall operate or be deemed to constitute a partnership or employment or agency or joint venture relationship or association between SoReal Prop Pte Ltd ("SoReal") and United Overseas Bank Limited ("UOB") nor constitute any party the agent or servant of the other party for any purpose, and SoReal shall have no authority to bind UOB or to act in the name of UOB or create a liability against UOB in any way or for any purpose and vice versa.