While the Covid-19 pandemic has created unprecedented uncertainty for many businesses, it has also revealed how good leadership can overcome challenges and lead to success. However, navigating today's ever-shifting economic landscape is no small feat. Now more than ever, it's essential that those at the helm motivate employees and inspire customers. Women leaders, in particular, have shown how empathy, courage, and empowerment are essential for steering a company through the pandemic's uncharted waters. To celebrate this International Women's Day, we spoke to three successful businesswomen in Singapore to get their advice on running a company in trying times.
Winnie Chan, co-founder of local leather gifting brand Bynd Artisan:
Lead with empathy, and opportunities will present themselves
Like many retail businesses, Bynd Artisan was faced with multiple challenges when the COVID-19 pandemic hit. However, Winnie prioritised her team's well-being. She was determined not to let her workers go as she understood their need for a stable income for their families at such a difficult time.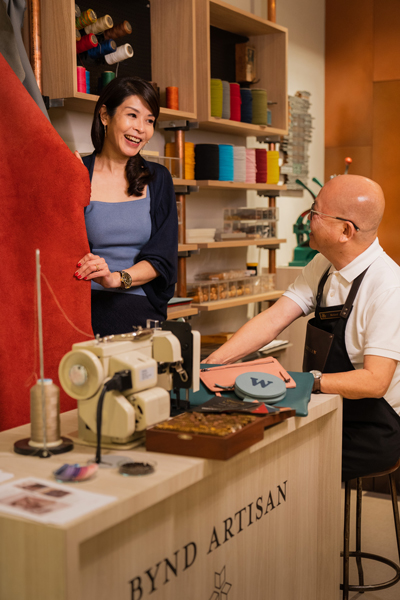 "We were concerned for our senior part-time retail colleagues, who suddenly found themselves with no working hours to clock-in and hence zero income when the stores had to be closed," said Winnie. So the workers were offered leave encashment based on the number of hours they had worked in previous years to provide them with some income during the lockdown.
"This was not in our contracts, but it was something we wanted to do for them because our employees are like family to us, and they all have families to take care of. We're not a company that cares only about profit; we grow and we win only when everyone from our staff and stakeholders to our customers – our whole ecosystem – grows and wins with us," said Winnie.
To give employees a sense of purpose at home during the lockdown, Bynd Artisan introduced innovative new lifestyle products focussed on safety and hygiene. Staff came up with concepts like leather hand sanitiser holders that consumers could give as gifts during the new-normal era. Knowing that her craftsmen were on the ground and close to the customers' needs, Winnie empowered her team to create the product, which became a hit among her customers.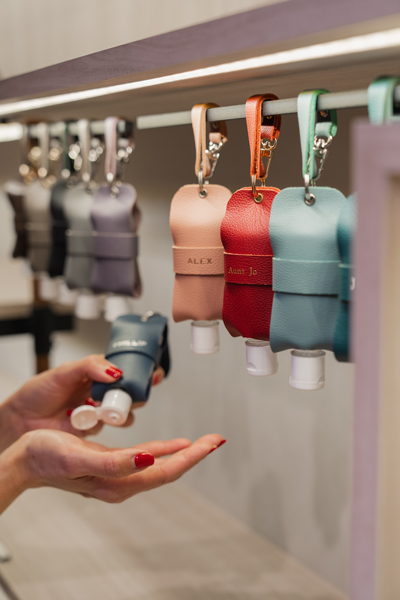 Winnie's belief in her staff and the empathy shown towards them rewarded Bynd Artisan with many new and innovative products. Tapping into the government support schemes from UOB enabled Winnie to tide through the pandemic without worrying about cash flow, and allowed her to focus on adapting and transforming the business.
The journey of transformation doesn't stop here. Recognising the impact that brands have on the environment, Winnie is preparing to launch a new brand that embraces sustainability by repurposing leather offcuts into stylish accessories. She hopes to build an iconic, internationally recognised brand, and with her determination, it's just a matter of time before this vision comes true.
Lorencia Kan, founder of Dancer's Dream Studio:
Courage will help you build a successful business and change lives
"I'm not intimidated by the unknown and every day is a new day to try something different." It is with this mindset that Lorencia took the path less travelled and followed her passion to start her dance studio, Dancer's Dream Studio in 2017.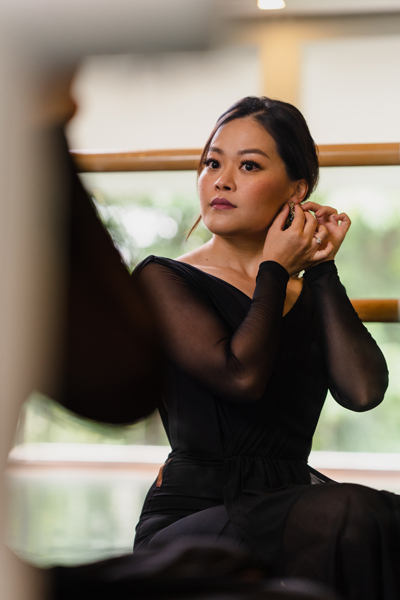 Originally offering only kids' classes, Lorencia wanted her studio to be a safe space, where children could learn at their own pace and develop confidence through dance. Since its launch, Dancer's Dream Studio has helped many students – kids as well as adults – step out of their comfort zones, something Lorencia finds fulfilling as an educator.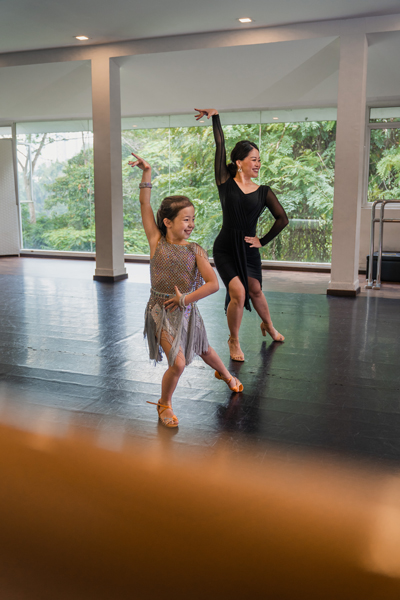 Undaunted by the COVID-19 challenges, Lorencia saw 2020 as a year of opportunity. Although physical classes could no longer be held during the Circuit Breaker period, Lorencia quickly took the classes online and build a team to provide necessary backend support.
"It forced us to relook at the business to see how we can do better." said Lorencia.
This turned out to be a blessing as the studio could also cater to students located outside Singapore, and Dancer's Dream Studio saw about a 10% increase in business, with a close to 100% retention rate.
Lorencia's journey may seem easy in hindsight, yet it was anything but. As a first-time business owner determined to not simply copy her competitors, Lorencia faced several challenges and had to learn through trial and error.
Throughout this journey, UOB remained a trusted partner, helping to kick-start her business with a suite of solutions from bank accounts to SME loans. In 2020, the bank also assisted her company to tap on the Temporary Bridging Loan, so the studio could adapt and transform to navigate the pandemic with peace of mind.
Michelle and Jasmine Lim, the second generation leaders of Hot Tomato Group:
Empower your employees to drive success
Michelle has long been passionate about the restaurant industry; it's in her blood. Her father founded the steakhouse brand Hot Tomato, which she took over and started running the business five years ago. Her sister, Jasmine joined in 2014, and the two have worked in tandem to grow the company ever since. As they expand, they continue to be guided by the principles established by her father: Always put the customer first, and be detail-oriented about every aspect of business, from management to the kitchen and the service staff.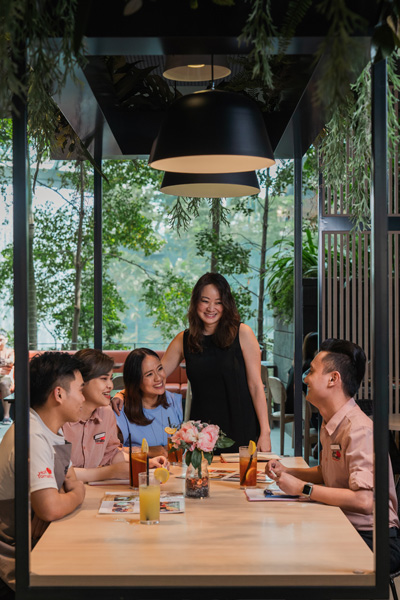 The sisters firmly believe that, "leadership is about empowering others."
"It is important to care for your staff [in order to build] trust. You create an open environment where employees are encouraged to contribute, make suggestions, pursue ground-up initiatives and provide constructive feedback," says Michelle, CEO who inspires her team to try new projects and to not be afraid to fail.
"Mistakes are fine, as long as we learn from them."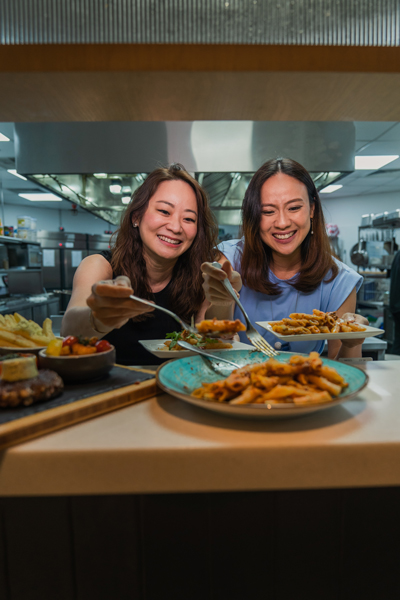 In 2020, many small businesses were impacted by the pandemic. And it is this open culture that helped the company navigate through a challenging 2020. Feedback from the team was crucial especially when they had to explore and move onto new online platforms during the start of the Circuit Breaker.
But Hot Tomato is not new to digitalisation. "We've been banking with UOB for generations. They have helped us greatly in introducing digital solutions that simplify our processes. Most recently, UOB helped facilitate the acceptance of PayNow to improve our customer experience," says Jasmine, who oversees sales and marketing.
From the early days of Hot Tomato to the next generation, UOB remains a committed partner in helping them fulfil their aspirations, with the ultimate goal of being a trusted and resilient brand that can stand the test of time.
These stories show how women leading with empathy, courage and empowerment can make a mark not just in terms of successful businesses, but also make a real difference to people's lives. This International Women's Day, UOB celebrates all such inspiring women leaders.