We believe that a strong risk culture is vital to the long-term sustainability of the Bank's business franchise. It ensures that our decisions and actions are considered and focused on our customers, and that we are not side-tracked by perceived short-term gains. Specifically, risk culture refers to the norms, attitudes and behaviours related to risk awareness, risk-taking and risk management, and controls that shape decisions on risks*. At UOB, our risk culture is based on our values.
UOB's Risk Culture Statement
Managing risk is integral to how UOB creates long-term value for our customers and stakeholders. Our risk culture is built on four principles: enforcing robust risk governance; balancing growth with stability; ensuring accountability for all our risk-based decisions and actions; and encouraging awareness, engagement and consistent behaviour in every employee. Each of these principles is based on UOB's distinctive set of values that guides every action we take. In entrenching our risk culture further across our franchise, we uphold our commitment to financial safety and soundness; fair outcomes and appropriate support for our customers; sustainable and prudent business approach and performance based on integrity, ethics and discipline.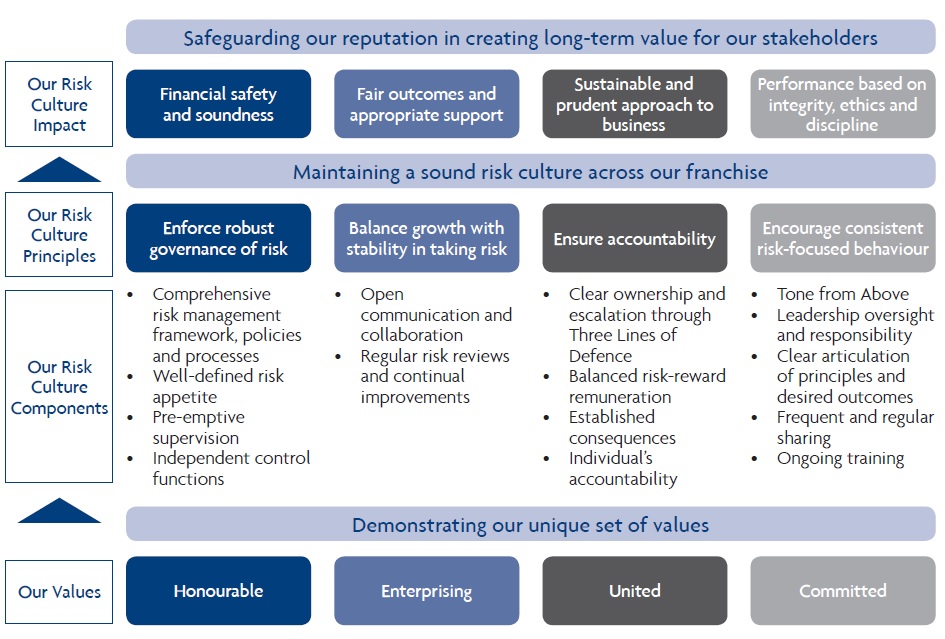 *Guidelines, Corporate Governance Principles for Banks, Basel Committee on Banking Supervision, July 2015.