Enhanced access to ATM services
For assistance or further details, please call our 24-hour call centre hotline at 1800 222 2121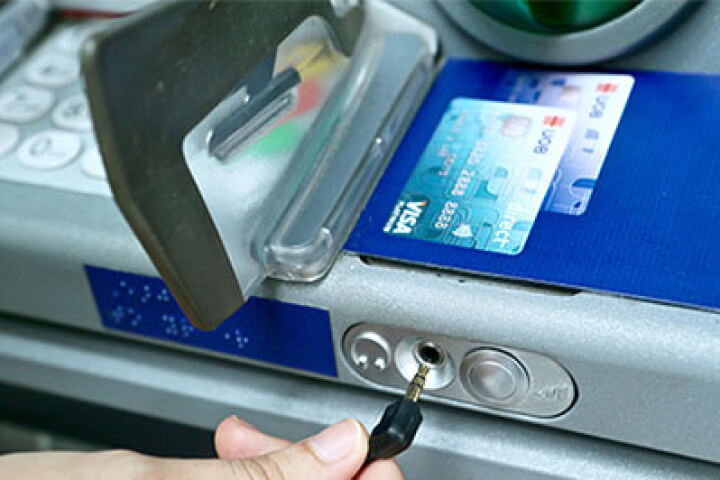 ATMs with audio jacks and deliver high quality text-to-speech
These enhanced ATMs have universal 3.5mm audio jacks and deliver high quality text-to-speech instructions.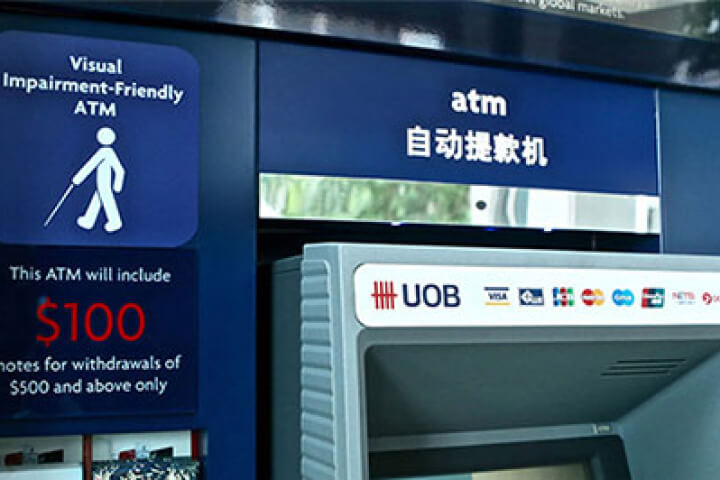 ATMs with special identifier decal
Each accessibility-enhanced ATM has a special identifier decal to let caregivers guide the visually-impaired ATM user.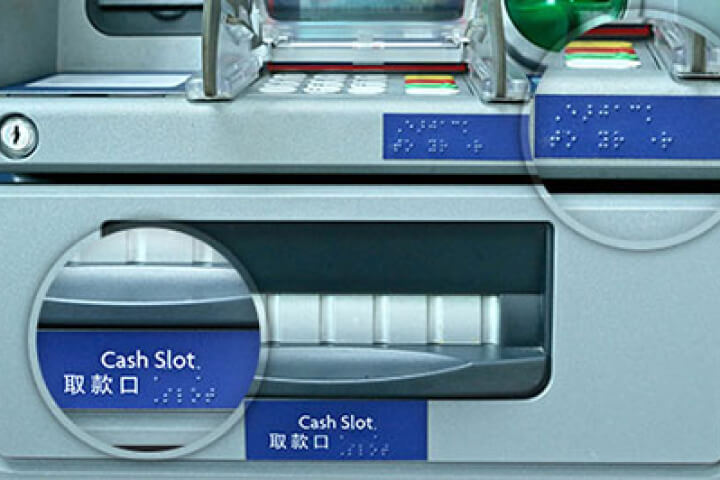 Braille characters to indicate audio jack location
Braille characters are found on the ATM to help the customer locate the audio jack and cash slot.
Frequently asked questions
What are the transactions supported in these enhanced ATMs?
Fast Cash Withdrawal and Balance Enquiry are supported.
What items do I need in order to use these Visual Impairment-Friendly ATMs?
You will need earphones with a standard 3.5mm audio connector, an ATM card and your PIN.
What are the languages available?
English and Chinese are available
Any difference to the cash withdrawal limits when I use the audio flow?
There is no change to the cash withdrawal limits when using the audio flow.
Is it safe and will other customers be able to view the account details on the A
These ATMs have been designed for the ATM screen to be disabled when an audio flow is activated. Customer's account details will not be displayed on the screen.
Can I use my OCBC ATM card to use this function under the Shared ATM network?
Yes OCBC ATM Cards are supported
What are the functions supported for OCBC ATM cardholders?
Fast Cash Withdrawal and Balance Enquiry
Are regional UOB ATM cards and foreign cards supported?
Are there receipts issued when customers use this audio flow?
No, receipts are not issued for such transactions.
Can I get my account balance after withdrawing cash?
Yes, by default the ATM will read out your account balance as part of the cash withdrawal transaction.
Can i choose not to use the audio mode?
Yes, you can insert your UOB ATM card to use the ATM in the regular mode where transaction details are displayed on screen.
What happens when I pull out the earphone in the middle of a transaction?
The ATM will not be able to continue with the voice guided instructions.
If the ATM does not receive customer input, the transaction will timeout and the ATM card will be ejected after 45 seconds.


We advise customers to press the 'Cancel' button on the ATM PIN Pad to cancel the transaction.