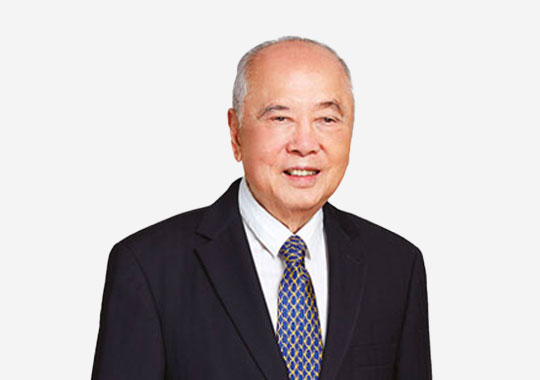 Dr Wee Cho Yaw – Chairman Emeritus and Honorary Adviser
"Honour and integrity must never be compromised in a banker. These values have guided us since our founding in 1935."
Dr Wee Cho Yaw, visionary, banker extraordinaire, community pillar and celebrated pioneer, is highly regarded in Singapore and internationally.
He retired from the UOB Board in 2018, following more than 60 years at the helm of the UOB Group. Under his leadership and guidance, UOB became one of the leading banks in Asia. During his term as Group Chairman and CEO, the Bank's network expanded from 75 to more than 500 branches and offices globally and its assets increased from $2.8 billion to more than $253 billion through his pursuit of disciplined and sustainable growth.
Highlights of UOB's expansion since 1965 include:
1965 Opens 1st overseas branch in Hong Kong
1971 Acquires majority stake in Chung Khiaw Bank (CKB)
Opens Tokyo Branch
1973 Acquires Lee Wah Bank
1975 Opens London branch
1977 Opens New York agency
1980 Opens Los Angeles agency
1983 Opens Seoul representative office
1984 Opens Beijing representative office
1985 Expands into Sydney and Xiamen
1986 Expands into Vancouver
1987 Acquires majority interest in Industrial & Commercial Bank
1992 1st Singapore bank to set up office in Vietnam
Sets up Taipei representative office
1994 Expands into Yangon
1997 UOB Malaysia merges with CKB Malaysia
1998 Opens Shanghai branch
1999 Acquires Westmont Bank in the Philippines
1999 Acquires Radanasin Bank in Thailand
2001 Acquires Overseas Union Bank
2004 Acquires 96.1% in Bank of Asia Public Company in Thailand
2005 Increases controlling stake of PT Bank Buana in Indonesia to 61.1%
2009 Opens Mumbai branch
2010 Merges PT Bank UOB Indonesia with PT Bank UOB Buana
2015 Completes full acquisition of Far Eastern Bank
Officially opens Yangon branch, adding to UOB's unparalleled Southeast Asian network
Dr Wee has received many accolades for his business achievements and support of education, community welfare and the business community. Among the awards conferred on him are the Distinguished Service Order, Singapore National Day Award (2011), ASEAN Business Advisory Council Legacy Award for Singapore (2017) and Honorary Doctor of Letters from the National University of Singapore (2008) and Nanyang Technological University (2014).
Dr Wee remains as Chairman Emeritus and Honorary Adviser to share his wealth of experience and insight with the Board and Management.