Enjoy extra funds with our UOB PRVI Miles Payment Facility for bill payments such as income tax, property tax, a home makeover or any occasion where credit card payment is unavailable.

Choose from one of the following options to earn 1 mile for every S$1 charged (UNI$2.5 for every S$5 charged) with a one-time admin fee:
A one-time payment with a fee of 2.0%;
6 monthly instalmentsNew with a fee of 2.2%;
12 monthly instalmentsNew with a fee of 2.7%
How it works: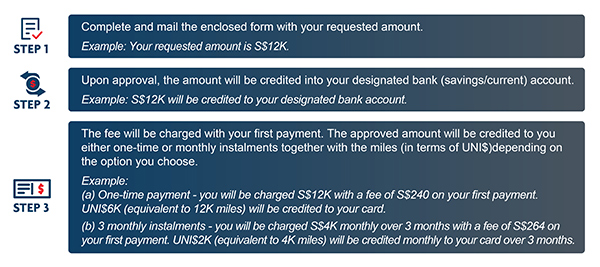 Planning to increase your credit limit before applying for a Payment Facility? Complete your credit limit increase application within 2 to 3 minutes by retrieving your personal information with MyInfo. No documents upload required. Click here to apply.
For assistance, please contact us at 1800 222 2121.