Infinite Card. Infinitely More.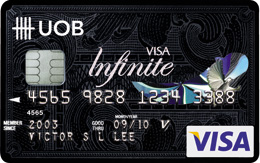 Enter an exclusive realm of privileges with UOB Visa Infinite Card*.
You can look forward to infinitely more opulence, with lifestyle benefits such as private access to luxury yacht services, complimentary fine dining and use of over 450 VIP airport lounges with the UOB Visa Infinite Card.
This exclusive card membership is available only to the select few, by invitation. To experience the Infinite lifestyle call 1800 253 2288.
* Terms and conditions apply.
More Information
To experience the privileged life:
Call the 24-hour Privilege Banking service line at 1800 355 1118 (within Singapore) / +65 6355 1118
(outside Singapore)
Newsletter Disclaimer
Contact Us
Call 1800 355 1118 (within Singapore) / +65 6355 1118 (outside Singapore) or leave your details here. (To qualify for UOB Privilege Banking, clients need to maintain a minimum balance of S$350,000 in deposits and/or investments with us.)