Are you protected? Bridging the protection gap in Singapore
Published in June 2020
Article Summary
In an era where we are being urged to live life to the fullest, we often ignore insurance protection.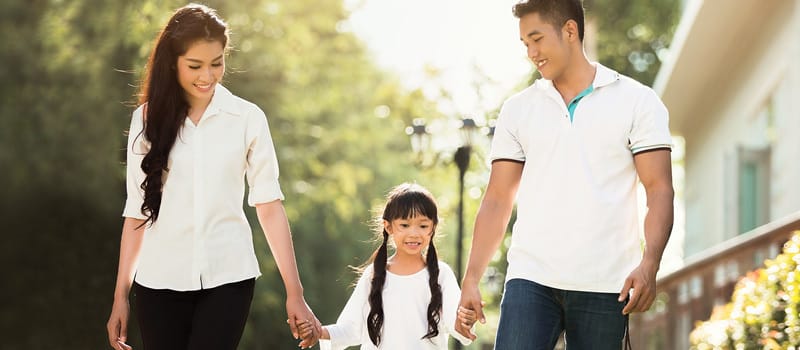 Insurance is not something that many people in Singapore like to talk about — and that is a problem. A 2017 Life Insurance Association survey1 found that 41.4 percent of Singaporeans and Permanent Residents (PRs) aged 20 to 34 have no insurance coverage. Buying insurance may not be the top priority for most people — but it should be. The earlier in life you commit, the cheaper it is and the more time you can spend enjoying what makes life exciting, rather than focusing on potential pitfalls.
Protecting what you have is important, whether that means having enough money to pay medical bills to keep you in good health, securing the finances to support your family should you be unable to work, or even making sure that if your well-earned holiday is disrupted by a cancelled flight or a stolen wallet that you are covered for your losses.
Aside from those without any insurance protection, many people in Singapore are underinsured, preferring to save money on premiums. Unfortunately, they tend to find out the protection gap risks of being underinsured at a time when they really need it.
Insurance helps ensure that your savings are not wiped out in cases of major life events like disability, critical illness and even death. Many people are unlikely to have the liquid assets to fund these enormous changes to their circumstances, so insurance policies offer cover for the unexpected.
1. What is the insurance protection gap?
The protection gap is the area of cost that's not covered by your savings or Central Provident Fund (CPF) if applicable, and any existing insurance. Having a protection gap effectively means that you are underinsured — in the event that you suffer critical illness, disability or death, your dependents may not be able to afford to maintain their lifestyle.
2. What's important to insure against?
As with all things in life it's about balance. You don't want to spend all your money insuring against anything bad that could possibly happen. So decide what's most important to you.
In most cases this means protection in the event of a critical illness and/or death, so that your family has financial security. At a minimum you should consider having ample health insurance for you and your family, and also critical illness cover for the main breadwinners. If you're not adequately insured, a serious illness could wipe out years of savings. The average Singaporean spends eight out of 82 years in ill health2 and, according to a 2017 survey by the Life Assurance Association, is only covered for around 20 percent of the money needed for a critical illness1.
The average Singaporean spends eight out of 82 years in ill health and is only covered for about 20% of what they need in the event of a critical illness.
MediShield Life accounts for basic hospital treatment for Singapore citizens and PRs, but this does not cover everything. Integrated Shield Plans (IPs) offer the chance to top up MediShield Life for private care, with no cost to the patient. However, under new government guidelines, patients will have to pay at least five percent of their bill3, with insurance covering the rest — an even greater reason to ensure you are insured.
Not being able to work because of critical illness can hit your finances from both sides, with high medical costs and a lack of income. Critical illness cover is an important consideration, protecting you at a time when finance is the last thing you need to worry about.
One reason most people don't like to think about insurance is that it makes them focus on life's most painful events, as well as considering their own mortality. It's important to keep in mind that bridging the protection gap ensures your family is taken care of when you are no longer around.
3. How much insurance do you need?
When thinking about how much cover you need, consider what would still need financing in the event of your death. Expenses and the needs of your dependents, as well as any outstanding debts, should be balanced against any savings and assets you have that could be quickly accessed in times of trouble. The remainder should be covered by a suitable insurance policy. Find out how much you might need to ensure that your family is still financially secure even when you're not around.
This article is brought to you by UOB in partnership with Prudential. It was first published on Prudential Singapore's blog Life Matters.
Sources:
https://www.straitstimes.com/business/banking/working-adults-have-inadequate-cover-if-critical-illness-strikes-says-study
This publication shall not be regarded as an offer, recommendation, solicitation or advice to buy or sell any investment product and shall not be transmitted, disclosed, copied or relied upon by any person for whatever purpose. Any description of investment products is qualified in its entirety by the terms and conditions of the investment product and if applicable, the prospectus or constituting document of the investment product. Nothing in this document constitutes accounting, legal, regulatory, tax, financial or other advice. If in doubt, you should consult your own professional advisers about issues discussed herein. The views expressed in the articles within this publication are solely those of the authors', reflect the authors' judgment as at the date of the articles and are subject to change at any time without notice.
Although every reasonable care has been taken to ensure the accuracy and objectivity of the information contained in this publication, United Overseas Bank Limited ("UOB") and its employees make no representation or warranty of any kind, express, implied or statutory, and shall not be responsible or liable for its completeness or accuracy. As such, UOB and its employees accept no liability for any error, inaccuracy, omission or any consequence or any loss/damage howsoever suffered by any person, arising from any reliance by any person on the views expressed or information in this publication.
United Overseas Bank Limited does not hold itself out to be an insurer, insurance broker or insurance agent. The insurance products and services stated herein where applicable are provided by Prudential Assurance Company Singapore (Pte) Limited.