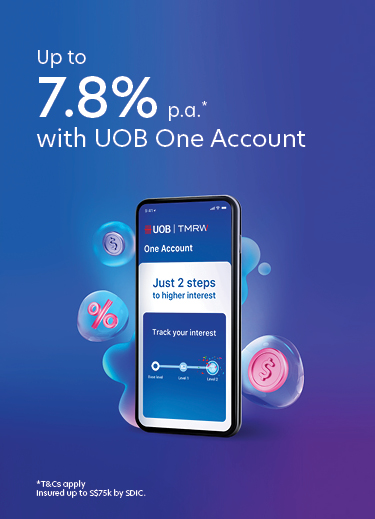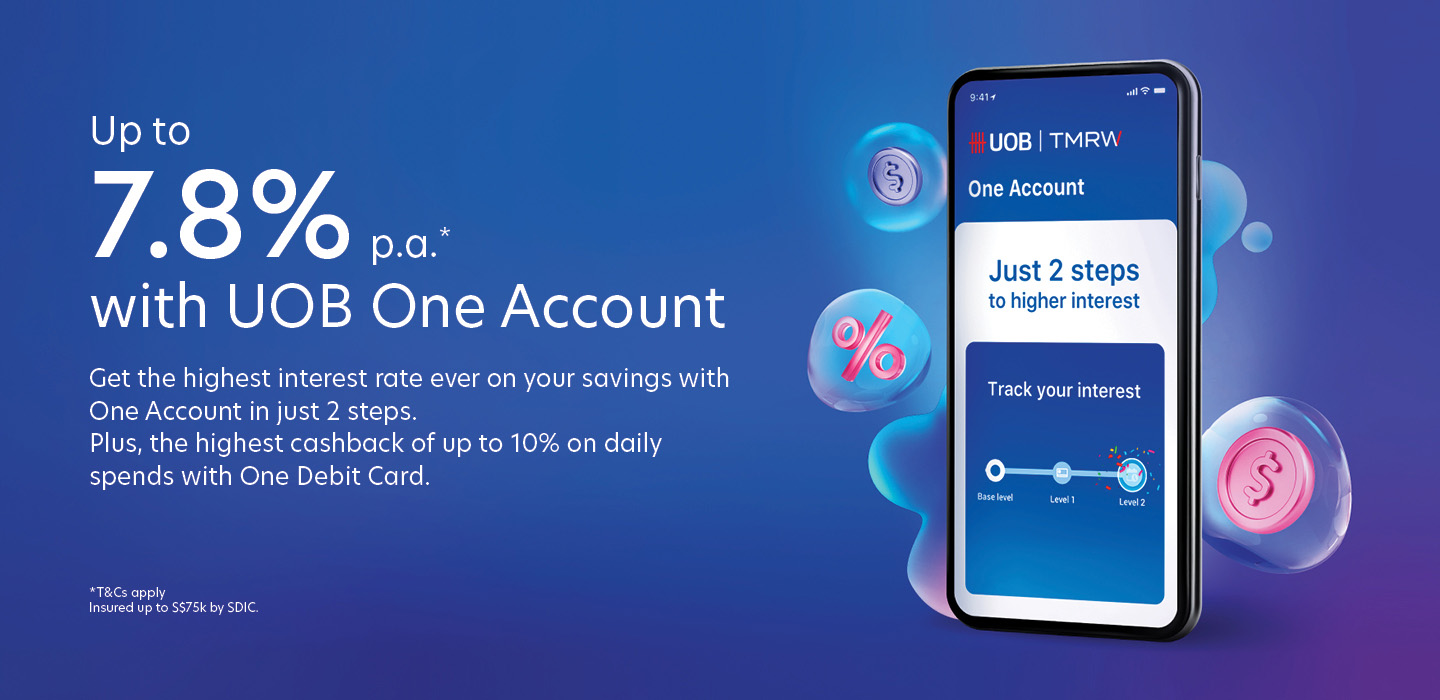 The highest interest rate ever on your savings with One Account – now up to 7.8% p.a. interest
Whether you're just starting out, striking out on your own, or taking your career further, we want to make it easy for you to maximise your savings and help you achieve your financial goals. With the UOB One Account, you can now earn higher interest of up to 7.8% p.a. with just 2 simple steps!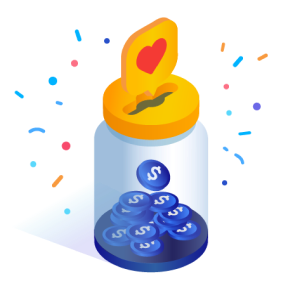 Flexible
Choose between salary credit or GIRO. Plus, earn higher interest on your savings with our lowered salary crediting criteria of S$1,600.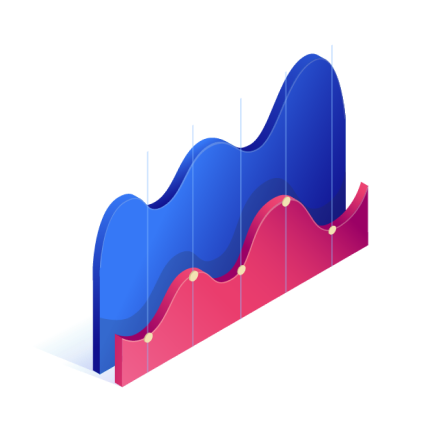 Accessible
Easily track your transactions for bonus interest with the Bonus Interest Tracker in the UOB TMRW app and Personal Internet Banking.
Announcement:
With effect from 1 December 2022, salary credit transactions made via PayNow reflected as "PAYNOW SALA" will be considered eligible for bonus interest on UOB One Account. Please click
here
for more details.
Here's how your bonus interestEnhanced! on your savings add up
Account Monthly Average Balance (MAB)
Account Monthly Average Balance (MAB)
Spend min. S$500 (calendar month) on eligible UOB Card

Total interest
Spend min. S$500 (calendar month) on eligible UOB Card AND make 3 GIRO debit transactions
Spend min. S$500 on eligible UOB Card AND credit your salary via GIRO

Total interest
First S$30,000

0.65%

2.50%

3.85%

Next S$30,000

0.65%

3.00%

3.90%

Next S$15,000

0.65%

4.00%

4.85%

Next S$25,000NEW!

0.05%

0.05%

7.80%

Above S$100,000

0.05%

0.05%

0.05%
Account Monthly Average Balance (MAB)
First S$30,000
Next S$30,000
Next S$15,000
Next S$25,000
NEW!
Above S$100,000
One Account calculator
Enjoy up to 10% cashback on your daily spend at SimplyGo (bus and train rides)NEW, Dairy Farm International, Grab, Shopee Singapore, UOB Travel spend and 4.33% cashback on Singapore Power utilities bill! Plus, up to 3.33% cashback on all retail spend! Enter your monthly spend below to find out how much cashback you can earn!
Never miss out on earning higher interest with the UOB TMRW app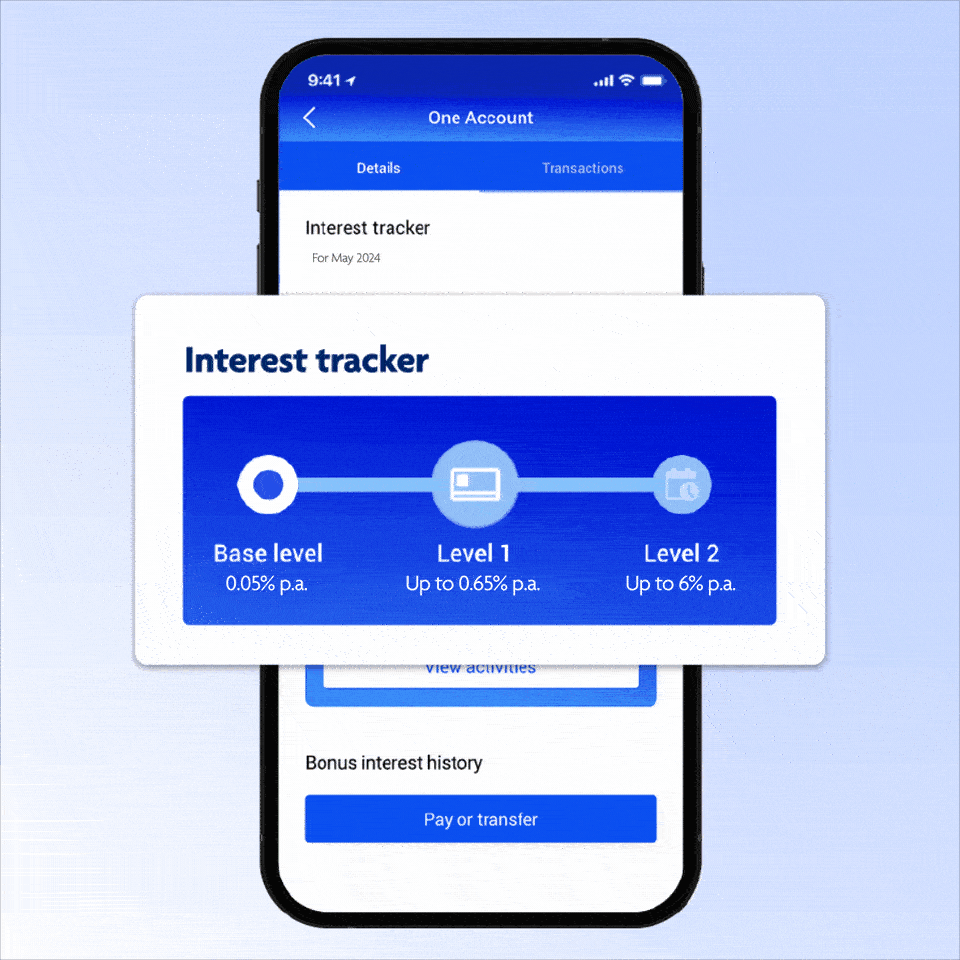 Easily track your progress towards earning bonus interest every month on the UOB TMRW app. Simply tap on Accounts > One Account > Details

Monitor the activities required to unlock the next tier of bonus interest by clicking on View activities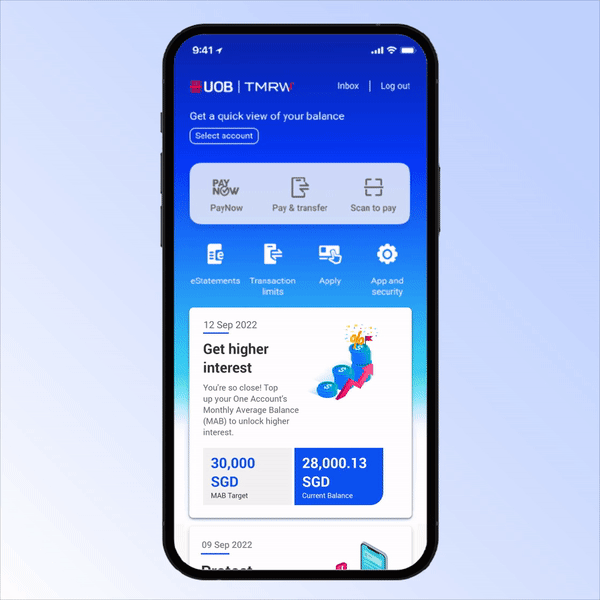 Receive personalised reminders based on your saving habits so that you never miss out on topping up your UOB One Account balance to unlock the next tier of bonus interest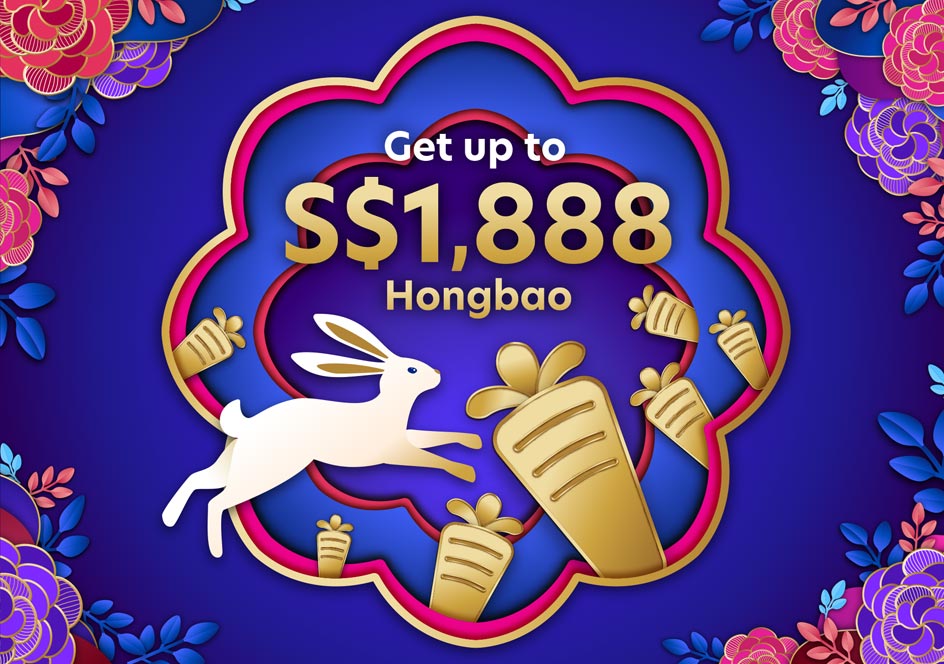 Usher in a bountiful year of the Rabbit when you save with UOB!
Simply top up your UOB savings account and participate now to receive up to S$1,888 Hongbao. Plus, receive up to 3 additional S$28 Hongbaos when you complete selected actions to collect Golden Carrots!

Here's how you can get a guaranteed Hongbao of up to S$1,888:
Step 1: Register your participation here by 28 February 2023.
Step 2: Deposit a minimum of S$50,000 in Incremental Fresh Funds in an Eligible Account by 28 February 2023. The Incremental Fresh Funds will be earmarked for approximately 4 months.

| | |
| --- | --- |
| Incremental Fresh Funds Amount | Cash Credit |
| S$50,000 | S$388 |
| S$100,000 | S$888 |
| S$200,000 | S$1,888 |
BONUS! Be rewarded with an additional S$28 Hongbao for each Golden Carrot you collect, up to 3 per customer! Get a Golden Carrot for each action completed below.
(a) Register for PayNow with UOB
(b) Credit your monthly salary of min. S$1,600 to your UOB account
(c) Refer a friend to top up and participation in this promotion

Promotion ends 28 February 2023. T&Cs apply.
Things you should know
Eligibility and fees
Age
18 years old and above
Fall-below Fee
S$5 if monthly average balance is less than S$1,000
Waived for first 6 months for accounts opened online
Early Account Closure Fee
S$30
Within 6 months from opening
Min. Initial Deposit
S$1,000
Cheque Book
S$10 per cheque book (50 leaves)
Issued upon request
Actions or documents required
You can open a savings account online, get approval within minutes and start transacting instantly (where applicable).

How to apply:
1.Retrieve with MyInfo using Singpass login – applicable to new to UOB customers, existing to UOB customers and joint applicants
2.Personal Internet Banking login details – applicable to existing to UOB customers
3.Credit/Debit card number and PIN – applicable to existing to UOB customers applying for single-named account application
For Foreigners and U.S Persons
Please proceed to any UOB Branch for application. You will require:
Passport
Proof of Residential Address
Employment Pass/S Pass/Dependent Pass
Important notice
Deposit Insurance Scheme
Singapore dollar deposits of non-bank depositors and monies and deposits denominated in Singapore dollars under the Supplementary Retirement Scheme are insured by the Singapore Deposit Insurance Corporation, for up to S$75,000 in aggregate per depositor per Scheme member by law. Monies and deposits denominated in Singapore dollars under the CPF Investment Scheme and CPF Retirement Sum Scheme are aggregated and separately insured up to S$75,000 for each depositor per Scheme member. Foreign currency deposits, dual currency investments, structured deposits and other investment products are not insured.
Please refer to UOB Insured Deposit Register for a list of UOB accounts/products that are covered under the Scheme.
Bundle up for even more benefits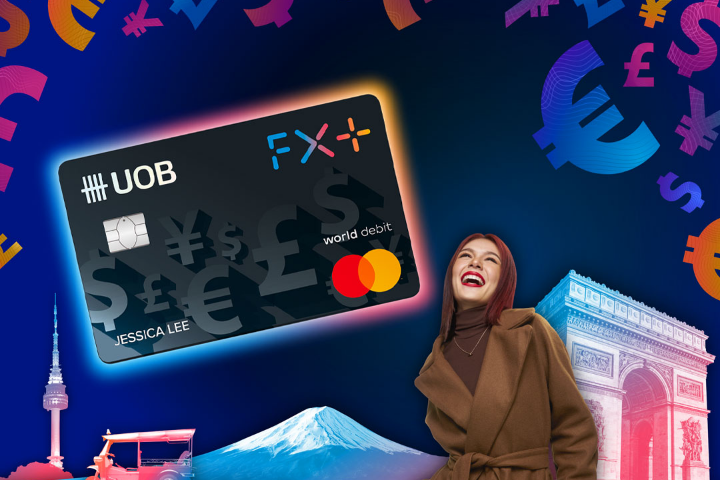 Everyday
One Account with Mighty FX
Your foreign currency needs covered.
A simple way to convert across 10 major foreign currencies at competitive rates directly from your phone for shopping online, investing in opportunities globally or transferring funds overseas.
Make banking simpler with these services
Here's something else you may like
UOB Stash Account
Accumulate even more savings with up to 1% interest (equivalent to S$575) p.a when you maintain or increase your Monthly Average Balance.
UOB EVOL Card
The perfect card for anyone who loves to eat out, watch movies, take Grab, and more. Get higher cashback when you spend during weekends.
We're here to help
Have a question?
Contact us
Locate us