As the world becomes more inter-connected, we are increasingly witnessing black swan events with consequences that ripple across the globe. The Global Financial Crisis was one such example. More recently, we have seen countries around the world scrambling to contain the COVID-19 pandemic, a medical emergency that subsequently evolved into an economic crisis.
This has provided a fresh reminder of the importance of a sound financial plan, to guard against times of uncertainty like these. With that in mind, here are the first 5 things you should consider doing with your finances in this new normal.
Emergency fund
If you haven't already started an emergency fund, now would be the time. Before we calculate how much you should minimally have in your emergency fund, there are two things you need to remember:
These funds have to be in the form of cash or liquid assets, and
The funds must be readily accessible and available.
What this means is that the emergency fund should not be, for example, a life insurance plan that only matures years later, or even money "stuck" in assets like real estate.
So how much should you have in the emergency fund? A good rule of thumb is to have 6 months' worth of expenses. This includes mortgage or rent payments, utilities, any other monthly or recurring payments such as insurance premiums, food, regular medical bills and financial contributions to your family. Lifestyle choices such as vacations or big-ticket luxury purchases should not be considered regular expenses. Nothing wrong with the latter – they just call for a different budget plan.
Not only that, your emergency fund should only be used in the event of contingencies such as a retrenchment, unforeseen medical expenses or sudden home repairs.
Do note however, that this rule of thumb applies under normal circumstances. Given the uncertain times we live in today, you could consider having 2 to 3 months of extra cash stashed in your emergency fund.
3-step guide to building an emergency fund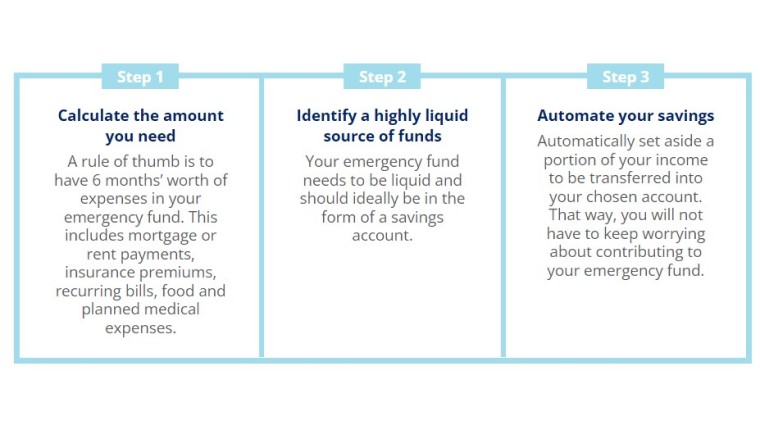 Reassess your cash flow and expenses
There are two sides to budgeting – what you earn and what you spend. If you have suffered a salary cut, it might be prudent to take a hard look at your current expenses and assess where you can reduce them. Use your new income level to match your expenses. In other words, if your salary has been cut by 20%, you might want to consider reducing your expenses by 20% (or even more).
Besides limiting the nice-to-have items in your list (dining out and gym memberships are just a few examples), you could also reevaluate your essential expenditures. Examples of the latter include selecting more affordable alternatives for the usual items in your grocery list.
Other ways you could improve your cash flow situation include speaking to your credit card providers to lower or suspend your payments or speaking to your insurance providers to discuss taking premium holidays. But do take note: while these measures defer your expenditures, you will still have to account for them eventually
Make a crisis plan
Other than having emergency cash on hand for rainy days, you could proactively identify all your financial options in a crisis. This plan may include:
Maximising the value of smaller non-cash assets (gift cards, reward points, cash back and more)
Identifying which big-ticket purchases you are willing to forego
Finding out more about government support measures. For instance, the Singapore government gave borrowers the option of deferring their mortgage payments to help tide them through the COVID-19 crisis.
These items could add up to significantly increase your cash inflow or lower your expenses through a tough period. However, this only works if you take the time to know what options you have at your disposal.
"No one has ever achieved financial fitness with a January resolution that's abandoned by February."

- Suze Orman | The New York Times best-selling author and founder of Suze Orman Financial Group.
Manage your debt
It is important to pay down your debts whenever possible. It would be a good idea to prioritise your credit card debt (if any), then turn to other types of loans such as mortgages, auto loans or education loans that you need to pay off.
If you need help managing your various debt payments to regain a more solid financial foothold, you could consider a debt consolidation plan. This could help lower your interest payments by combining all your unsecured debts into just one loan with a financial institution.
Subsequently, try not to take up too much debt so you have some breathing room in your budget.
Don't sell off your investments immediately
Losing your job or watching your investments plummet can understandably make you feel discouraged, worried or frustrated. However, now is not the time to let fear rule your financial decisions. Instead, try to focus on the long haul.
This approach of staying invested and working towards long-term wealth goals in a sustainable manner is consistent with UOB's Risk-First approach to financial planning. It is about taking the right amount of risk to achieve long-term financial goals and not letting momentary short-term events create knee-jerk reactions. Whether towards investments or insurance policies, stay calm in times of uncertainty and do not lose vision of your end goal. Do not hesitate to speak to your financial advisors to get professional insights on your investments.
At the end of the day, formulating a plan is a great start to adapting to the new norms in our lives. But as with all great plans, this requires a key ingredient: your commitment to stick to it.