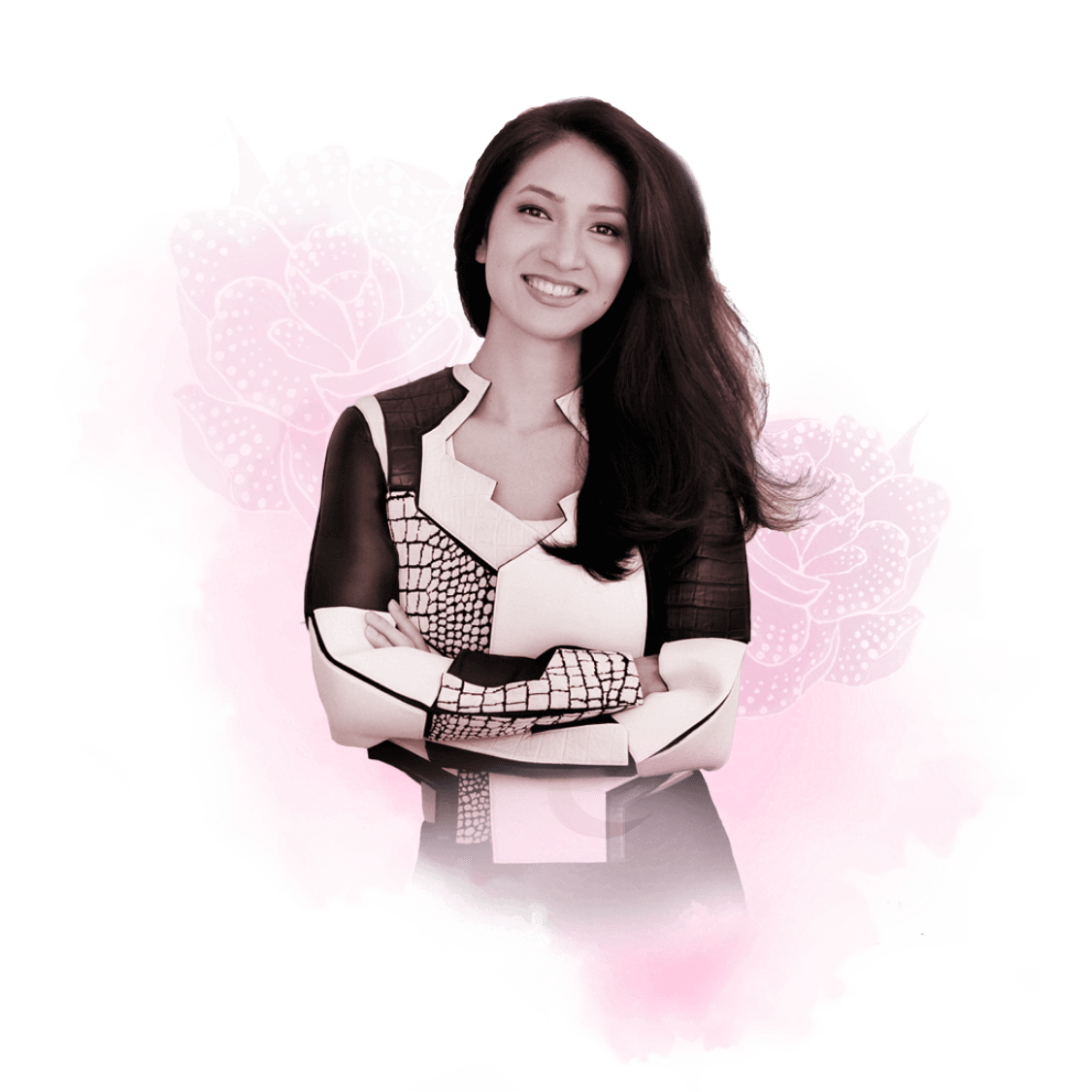 The UOB Lady's Card, designed by Priscilla Shunmugam
With no formal design training, Priscilla Shunmugam has always relied on her inner voice and creative eye. In 2010, she launched Ong Shunmugam – a contemporary womenswear label that focuses on sartorial construction instead of fast fashion. In less than a decade, the brand has gathered great success – having shown in Paris Fashion Week and with Priscilla getting the Designer of the Year Award at the 2012 Singapore ELLE Awards, among other things.
"Fashion design should be inclusive; it can and should be thinking of all women."
In designing the new generation of UOB Lady's Card, she had three main themes in mind: identity, borderlessness, and femininity. She reached into Ong Shunmugam's design signature, batik, and used the vibrant colours and rose motif commonly featured on the batik pesisir print.
"Every woman is unique, so we wanted to highlight that individuality through the varying colours of the UOB Lady's Cards."
Celebrating Empowered Women
Dillah Zakbah
Dillah Zakbah is someone who is not afraid to shake things up in the boy's club.
As one of Singapore's well-known creative technologists, Dillah has paved the way for other women to break into this male-dominated industry. But this was something she had to fight for. In 2009, she started work as a Personal Assistant at advertising agency BBH Singapore and soon grew to love the exposure to creativity. She asked for a chance to do more, and was given projects involving tech and creativity. She left BBH after some years to join startup company, Pie, which Google acquired. In this time, she also acquired her Masters in computer science.
She rejoined BBH Singapore in 2016 as a Creative Technology Lead, and outside from the agency, Dillah made time to mentor young women interested in Creative Tech helped enterprising women turn their business ideas into startups. Dillah is now working at BBH LA as Creative Director.
Ruqxana Vasanwala
Ruqxana Vasanwala is never afraid to follow her calling.
As a child, Ruqxana expressed her love for food by hoarding recipes in a scrapbook. But she took several detours before turning her lifelong love for cooking only a career. She was a mechanical engineer, a conference manager, and a technopreneur. But it was only during the dotcom bust, that she decided to go back to her first love — cooking. She is now the founder of cooking school Cookery Magic.
Growing up in ethnically diverse Singapore has shaped her belief that food is a medium that connects people and inspires interactions with our neighbours and friends. She now channels that love for food, and is proud to share stories about Singapore's rich culinary traditions with students from all around the world.
Lily Goh
Social entrepreneur Lily Goh is all about conquering the odds.
Deaf since she was 2 years old, Lily is the director and founder of ExtraOrdinary Horizons, an organization which promotes arts, culture, heritage and language among the Deaf community. Together with her deaf friends, they also form a band called ExtraOrdinary Percussions, making music and promoting the arts.
In 2013, the band went to Cambodia to teach music to deaf children, imparting knowledge and skills on entrepreneurship and performing arts. Now, it is her goal for ExtraOrdinary Horizons to run their first annual nationwide Deaf Arts Festival, showcasing the artistic skills of the deaf and encouraging them to chase their dreams.
NurShahidah Roslie
In a sport that has been long dominated by men, Nurshahidah Roslie shows who's boss.
Nurshahidah is Singapore's first female boxer. Since her debut in February last year at the Singapore Fighting Championship, the 29-year-old has chalked up a record of 11 wins and 2 losses, and became a 2-division Asia champion. No other Singaporean has done that. She is now ranked number 1 in Asia and top 10 in the world, and is one of the contenders for the world title.
Shahidah first picked up boxing as a student at Institute of Technical Education. The discipline and skill the sport demanded made her fall in love with it.
Shahidah wants to inspire more women to pick up competitive boxing, and has started a programme for them at Juggernaut Fight Club. "I want to help women build their self-confidence. It's what I want to focus on after retiring from professional boxing – it's my way of giving back."
Kathy Xu
Kathy Xu dedicates her life to fight for what's right.
Kathy is the founder of The Dorsal Effect. Having been a school teacher for 7 years and constantly advocating for her students to do good throughout her teaching career, Kathy decided to walk the talk and stepped out of the teaching profession to start The Dorsal Effect in 2013. An organisation that gives local fishermen in Lombok an alternative source of income. Instead of killing sharks, they can bring tourists on snorkelling trips, earning an income while conserving sharks at the same time.
Through the efforts of this incredible Singaporean woman, there will hopefully be more sharks around for the future generations.
Kelly Lim
Kelly Lim is breaking people's perspectives on what art should be.
This 27-year-old crochet artist goes against every stereotypical image of a person who crochets. Having first started crocheting when she was 7, Kelly then taught herself how to knit and made soft toys for her friends and family. However, she stopped for a few years when she was teased by her classmates for having this "granny" hobby, but picked it up again when she realised it was an artform that let her truly express herself.
Now, she combines her passion for crochet and knitting to create her distinct artworks, including large scale installation pieces for events and festivals in Singapore. She has also ventured into launching her own ready-to-wear accessories and custom dreads line.