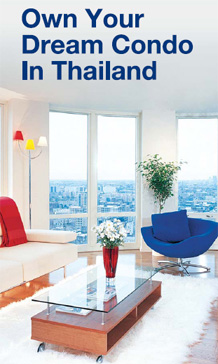 UOB International Home Loan - Thailand
Own Your Dream Condo in Thailand
Now you can own a luxurious condominium in Thailand! With a UOB International Home Loan, you can obtain attractive financing in Singapore and enjoy the convenience of our offshore loan arrangement.
You'll enjoy:
Up To 60% Financing
You'll have financing of up to 60% of the purchase price or valuation price (whichever is lower) when you purchase your dream home for owner occupation.


Choice of Loan Currency
You'll also have the flexibility to take up the loan in Singapore dollars or US dollars at attractive interest rates.


Repayment Period Of Up To 20 Years
What's more, repayment can be stretched up to 20 years (provided that the applicant with the highest income is aged 65 years and below at the end of the loan tenor), giving you greater financial flexibility and control over your cash flow.

With our monthly-rest instalment plan, you'll enjoy more interest savings as the principal amount is reduced every month.
Eligibility
UOB International Home Loan - Thailand is open to citizens / permanent residents of Singapore and Malaysia aged 21 and above with a minimum income of USD 65,000 per annum or SGD 100,000 per annum.
How do I apply?
Speak with our bankers today and we'll tailor a home loan package to suit your needs. To apply, simply complete the application form and submit it with the relevant documents to our bankers.

For details, please call our 24-hour customer service hotline at 1800 222 2121 (Singapore) / (65) 6222 2121 (International) now.

Where can I get more information?

Terms and conditions apply.