10 June 2020
Key Takeaways
An online presence ensures greater visibility for SMEs, as consumers are now searching online for products and services more than ever before
Google My Business (GMB) is a free tool for SMEs to build a comprehensive business profile that appears on Google Search and Maps
UOB now offers SME customers a faster and easier way to get their businesses instantly verified online for GMB and start promoting their businesses

3 mins read
Since the circuit breaker, Singapore has seen a rise in the number of consumers that are going online to search for products and services and transact digitally.
According to Google Trends in Singapore, search interest in 'Online shopping' increased 86 per cent in the last week of May as compared to the week of 5–11 January 20201. It peaked during the circuit breaker in the week of 19–25 April, with 138 per cent more searches on the topic than in early January2.
In the same period, search interest in 'Food delivery' increased by a whopping 271 per cent3. Interest had peaked in the week from 5–11 April, which saw 488 per cent growth in the number of searches as compared to the week of 5–11 January4.
Businesses have responded by expanding their online presence
Even the most traditional trades, such as market stalls and hawkers, have started selling online and offering delivery options to customers.
To reach out to consumers and capture new ones, it is important to make your business stand out online. To do so, business owners can leverage the power of simple-to-use and easily accessible digital tools like Google My Business (GMB).
GMB is a free tool that enables SMEs to enrich their business information on Google Search and Maps. The digital tool assists SME owners in showcasing their businesses online while helping them stand out from the competition, especially through the sharing of customers' positive experiences when customers post reviews on the business' Google listings.
Businesses with a strong online presence have a competitive advantage and can attract more customers
An online presence has many benefits:
Visibility. The easiest and most convenient way to find any product or service is through a quick Google search. Businesses can build a profile on Google that includes details such as photos of food items or other retail items, their latest promotions, and respond to reviews. Research on Google search listings shows that complete business profiles are 2.7 times more likely to be considered reputable, and get on average 7 times more clicks than basic listings.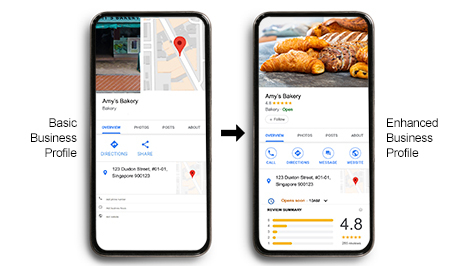 A comparison of search results with and without GMB
Updates. An online presence is an effective way to keep customers informed, especially during COVID-19 when there are more changes to business operations in response to government measures. SME owners can update any changes to their store operating hours, especially useful when their respective businesses are allowed to re-open. They can also post information on the range of products available, or food delivery options. A restaurant owner, for example, can let their patrons know if they are extending specialised services such as no-contact delivery or kerbside pick-ups.
Engagement. Responding to customer reviews online has proven to be a key engagement tool for SME owners. A gracious reply to compliments is an obvious way, although addressing customer grievances in an honest and timely manner can also build further credibility. Over the long term, such gestures encourage loyalty and draw in new customers.
Customer insights. Google My Business provides business owners with data insights on how customers engage with their listing. These can include information on which photos are attracting more attention, the number of clicks to the website and the calls the business is getting directly from the Google listing. These are useful features that help analyse potential customers' preferences and can help in business decision-making.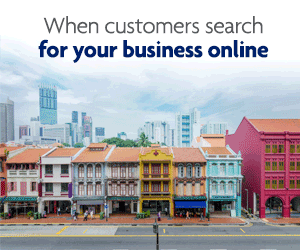 UOB makes it faster and easier to sign up
Over the past few years, UOB has been actively helping its SME customers digitalise, such as with the UOB BizSmart programme, so they can be ready for the digital economy. And in yet another effort to support SMEs, the bank has partnered with Google to streamline the registration process for Google My Business in Singapore, making it faster and easier.
Under the standard procedure, when a business tries to claim a physical location on Google Maps to indicate it as their storefront, this claim has to be verified using a manual process that can take a few days to complete.
UOB's online registration form, however, is capable of verifying ACRA-registered businesses instantly – by doing so, it helps SMEs complete their registration in one sitting, allowing businesses to instantly start building a richer profile on Google.
In these challenging economic circumstances, Google My Business can be a useful tool for SMEs to gain more visibility and stand out from competitors.
The service is open to all UOB Business Banking customers, and SMEs can apply for a UOB eBusiness Account to get started. Find out more at www.uob.com.sg/google.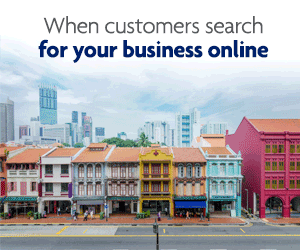 References:
1https://trends.google.com/trends/explore?date=2020-01-01%202020-12-31&geo=SG&q=%2Fm%2F047m52
2https://trends.google.com/trends/explore?date=2020-01-01%202020-12-31&geo=SG&q=%2Fm%2F047m52
3https://trends.google.com/trends/explore?date=2020-01-01%202020-12-31&geo=SG&q=%2Fg%2F1224tf85
4https://trends.google.com/trends/explore?date=2020-01-01%202020-12-31&geo=SG&q=%2Fg%2F1224tf85