29 April 2020
Key Takeaways
There are automation tools available for e-commerce, human resources (HR), accounting, inventory management, invoicing, and payments
UOB offers free trials for many of its solutions under UOB BizSmart, allowing SMEs and their employees time to fully understand and experience the benefits that will help ease their daily workload before they make a complete switch
SMEs can get up to 70 per cent of setup costs covered by the SMEs Go Digital Programme when opting for UOB BizSmart

5 mins read
As the COVID-19 crisis continues disrupting lives and businesses across the world, the situation is proving particularly challenging for SMEs. In these times, it has become more pressing for SMEs to digitalise and enhance their capabilities in order to be more resilient.
In the recent Fortitude Budget, the Singapore government announced a Digital Resilience Bonus payout of up to S$10,000 to incentivise more SMEs to digitalise their business. For a start, SMEs in the F&B and retail sectors that adopt PayNow Corporate, Peppol e-invoicing and other digital solutions in the categories of business processes, digital presence and data-driven operations will be eligible for the bonus payouts.
UOB remains committed to supporting the government's digital push, helping SMEs digitalise their operations for business continuity. Our BizSmart suite of integrated cloud-based solutions can help SMEs access their business operations remotely, streamline complicated processes, and bring greater efficiency.
Let's take a look at some essential business operations that can be automated and digitalised using our solutions.
Building e-commerce capabilities
The COVID-19 situation has underscored the importance of online channels as an added revenue stream for businesses. Given the growing trend of online shopping, SMEs with physical store fronts should establish an online presence to gain greater visibility and widen their customer reach.
Shopmatic is an e-commerce platform that offers easy-to-use web templates and a user-friendly interface for SMEs to showcase their products and services online, without the need for any coding and programming knowledge.
Shopmatic's e-commerce consultants provide digital marketing advice for SMEs to scale their business.
Using Shopmatic, SMEs can list their stores on Lazada, Qoo10 and Shopee and monitor orders, inventory, payments, and shipments from a single panel management tool.
Managing employees with a cloud-based solution
Taking care of HR processes such as hiring, maintaining payroll and employee records – which can involve a vast amount of paperwork – are all time-consuming tasks and can burden businesses even more so at this time. Moving to cloud-based solutions can help automate HR processes and free up resources that can be used more productively.
Part of UOB BizSmart's suite of solutions, HReasily offers a cloud-based HR management system that allows SMEs to access staff records, payroll, leave, claims, and attendance in real-time.
With facial recognition software and GPS tracking integrated into the tool, SMEs can track employees' time and attendance even when staff are working remotely. This not only helps in time management but also provides data automatically for payroll calculations.
HReasily enables payroll management by issuing itemised payslips electronically to employees, and is accessible on a simple app. It further integrates with UOB Business Banking Internet Banking Plus (BIBPlus) to initiate payroll transactions seamlessly.
Real-time management of accounts receivables and business cash flow
SMEs are now facing an uphill task in the area of invoicing and maintaining accounts. In the current environment, SMEs are not always able to issue and send out hard copy invoices or track accounts receivables and payables in a work from home scenario. Therefore, if processes such as sales, invoices, and payments can be automated and moved to a cloud-based platform, it allows business owners to stay on top of their cash flow and make faster decisions in this difficult period. Digitalising these processes will ensure that SMEs face minimal disruption and benefit from greater efficiency in executing such tasks.
UOB BizSmart allows SMEs to issue sales orders and quotations electronically. As a Peppol-ready service provider approved by IMDA, it can send e-invoices to public sector bodies and other customers via the Peppol network securely.
SMEs can collect payment via e-payment modes, such as PayNow QR or NETS PayCollect, without the need for cash or cheques. Funds are credited directly to their UOB Business Banking account.
With direct bank feeds to UOB BizSmart, SMEs can easily reconcile bank account transactions with their accounts receivables to get an up-to-date view of their business cash flow.
Efficient inventory and delivery management
Inventory stock-taking and managing deliveries can be a painstaking, time-consuming process for SMEs. Further, as SMEs now increasingly sell their products and services through varied online channels, there is a greater need to automate the inventory and delivery management process.
Traditional inventory management can also result in inaccuracies due to the manual nature of the task. Using cloud-based solutions, SMEs can streamline and automate inventory management to reduce pressure on human capital resources. Similarly, using automated systems to schedule deliveries offers the same advantages and helps free up manpower for other, more productive uses.
Deliveries can be assigned using the drag-and-drop function and updated on UOB BizSmart's cloud-based platform.
Drivers can access delivery schedules via a mobile app to ensure timely pick-ups and deliveries.
Inventory is updated in real-time with every incoming or outgoing delivery, providing SMEs with an accurate view of their inventory stocks. This helps SMEs to forecast bulk purchases better.
The benefits of going digital
Having automated and digitalised workflows on a centralised platform eliminates uncertainty and double work. It also makes it easier to get an overview of business activities, deadlines, and even the status of every sales opportunity.
As Singapore's economy enters the next phase of its fight against COVID-19, there is no better time for SMEs to accelerate the adoption of digital tools to boost their growth and become more resilient. SMEs can kick start their digital transformation journey with UOB's suite of digital solutions and enjoy exclusive solution packages on top of funding support from the government.
UOB BizSmart suite of digital solutions are qualified solutions supported by IMDA's SMEs Go Digital Programme. Sign up for any two digital solutions at no cost for the first 6 months under the Start Digital Pack.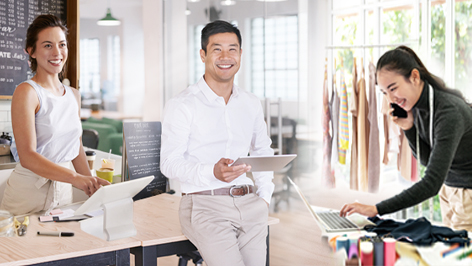 Go digital and receive Digital Resilience Bonus payouts of up to S$10,000
For F&B and Retail businesses
Find out more
Disclaimers
UOB BizSmart Important Notes and Disclaimers apply. Please visit www.uob.com.sg/bizsmart for full information. The information provided in this document is intended for informational purposes only and may be subject to change at UOB's sole discretion.