24 August 2017
Key Takeaways
While e-commerce can boost online sales, Bynd Artisan has postponed its e-commerce launch to increase in-store visits, in hopes that the experience will strengthen brand awareness
Skills upgrading can improve employees' value-add and self-esteem, leading to lower turnover
Collaborating with local talents can lower marketing costs while increasing distribution networks
Automating business processes enables Bynd Artisan to shave operating cost as well as time to focus on value-added initiatives

8 mins read
One may be hard-pressed to think that resource-scarce SMEs have no room to invest in improving their productivity. Yet, Bynd Artisan proves that this is but a myth that should be debunked. On top of demonstrating the potential of integrating technology into a crafts business, the home-grown paper company shows the transformative power of technology in enhancing the business' top line.
James Quan and Winnie Chan, the husband and wife duo behind Bynd Artisan, weigh in on their experiences instilling productivity and innovation into their crafts business, and the impact that has produced for Bynd Artisan.
Like what's been featured in the video above? Read on below for more in depth SME insights.
A spin-off from the family's 60-year old business Grandluxe, Bynd Artisan was rebranded in 2014 and is the brainchild of cofounders, third-generation owner Winnie Chan and her husband, James Quan.
Recognising the need to leverage on current productivity and innovation trends while acknowledging the sentimental value customers still have for personalised products, Winnie and James sought to redefine traditional craftsmanship business with a modern twist.
Automating Business Operations
For starters, the business has introduced automation tools into their daily operations to simplify and encourage communication among the team, as well as to deduce the hassle of essential business processes such as financial management.
To improve internal communication, Bynd Artisan is currently exploring a robust tool that archives communication history across popular channels such as email and Whatsapp, so that messages are not lost in the event employees leave the company.
And when it comes to streamlining their accounting processes, James and Winnie rely on a cloud-based accounting software that automatically updates their business accounts across multiple point of sales and also tracks customer orders. Without being bogged down by paperwork or worn out by such day-to-day business formalities, the team is able to focus and channel available resources towards business strategies and growth.
Learn how you can transform your business with digital tools that save you time. Find out more about UOB BizSmart.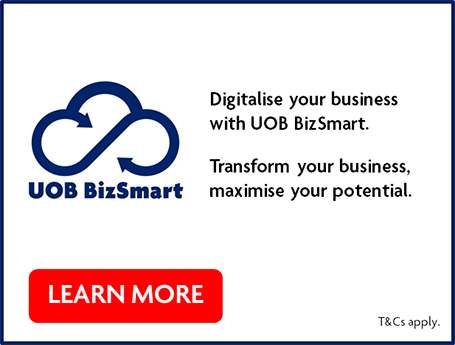 Collaborations with Local Creatives
Bynd Artisan is a huge advocate of partnerships. The brand often collaborates with local artists and designers to share marketing resources and to extend their reach to new markets. Collaborations also enable the brand to stay open to new approaches.
Some of Bynd Artisan's past collaborations include a four-piece capsule collection with local singer and songwriter Joel Tan from Gentle Bones and an accessories collection with fashion designer Priscilla Shanmugam of local label Ong Shanmugam.
The brand receives collaboration requests nearly every day, but chooses its options carefully. "We have to learn how to say no a lot, as we can only work with one collaborator every 3-4 months," said James. For its upcoming collaborations, the brand will be launching a series of customisable leather wearables with designer and architect Colin Seah of Ministry of Design, as well as a collection with industrial designer Olivia Lee for their new Raffles Atelier.
"When it comes to brand collaboration success, do not think so much about cost sharing first – a lot of people stumble on this. Instead the partnership has to be something that you are interested in doing, and you think adds value to your brand, while reaping benefits for your partner. If you start counting the dollars and cents right from the beginning, you won't get very far into the discussion." – Winnie Chan, Co-Founder | Bynd Artisan
Keeping Employees Relevant
Often, SMEs perceive employee skills upgrade purely as a distraction from business-as-usual. But in the new, digital-first economy, employees without relevant skills can quickly become redundant. At the same time, it is not easy for resource-scarce SMEs to find and recruit the right talents.
Before the formation of Bynd Artisan, their employees were production workers, sample-makers - leather sample-makers, paper sample-makers. "We upskilled them, transformed them, sent them for courses -customer service, soft skills, computer skills," said James. The brand taps on the SkillFuture grant to alleviate their costs.
"From the productivity point of view, (our employees) have increased their value-add. They are able to engage the customers and have found a new sense of self-esteem. Turnover is lower when they are proud of what they do." – James Quan, Co-Founder | Bynd Artisan
By embracing not just new technologies, but also new ideas, the prospects for Bynd Artisan seems infinite.
Further Reading: