Excellent Service Award

Meet our UOB Service Stars.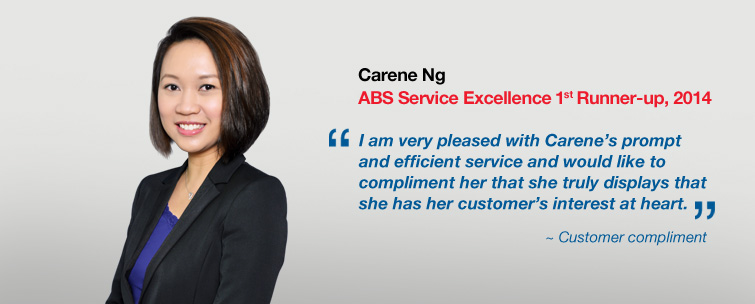 Providing a seamless banking experience with
professionalism and care.
A customer was exploring to expand his business by using the trade facility for the first time.
The customer had a lot of doubts and queries as his company only used straightforward secured loans.

Carene explained to the customer patiently on the process of the trade facility and how the trade facility can help his company's business to grow. She also guided the customer on how to work with his suppliers to maximise the benefits of the trade facility. She ensured all the customer's doubts were cleared before submitting the application for loan approval.

Carene processed the loan within the stipulated time frame and informed the customer promptly upon receiving the loan approval.

In the feedback to the bank, the customer said "I would like to specially thank Carene for her professionalism and efficiency. She made the loan application process a breeze. I am very pleased with her prompt and efficient service and would like to compliment Carene that she truly displays that she has her customer's interest at heart. She comes across to me as a very knowledgeable and professional manager. I sincerely thank Carene for her utmost care towards the company and believe many other customers will enjoy banking with UOB."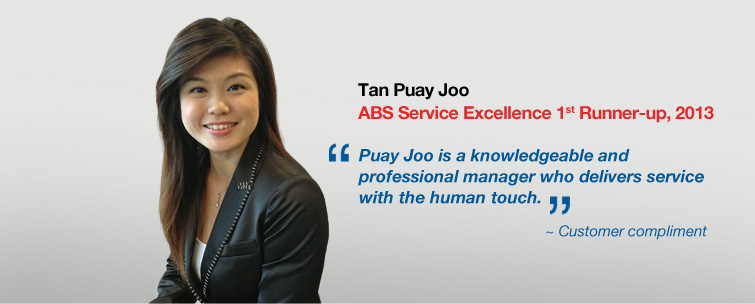 Bringing excellent banking service right to the doorstep.
An upset customer visited the branch and informed Puay Joo that despite making several attempts to set up the Business Internet Banking (BIB) service on her computer, she still could not access the BIB service to view her account transactions. Puay Joo sprang into action to check on the issue and found out that the customer had yet to set up the 'Administrator' function.

She guided the customer on the process and the customer's BIB service was successfully activated. The customer felt relieved as she could now perform the funds transfer to pay her suppliers via the BIB service.

After the customer returned to her office, she called Puay Joo and informed her that she still could not view her account transactions via the BIB service. Without any hesitation, Puay Joo visited the customer at her office and helped her resolve the matter successfully.

The customer was impressed with the positive service attitude shown by Puay Joo in assisting her to resolve her problem. She informed Puay Joo that she had intended to take up a loan to purchase a commercial property from another bank but now she would like to apply for the loan with UOB instead. In her feedback to the Bank, the customer wrote, "Puay Joo is a knowledgeable and professional manager who delivers service with the human touch. UOB is very good and the Branch Manager is now a very good friend of mine!"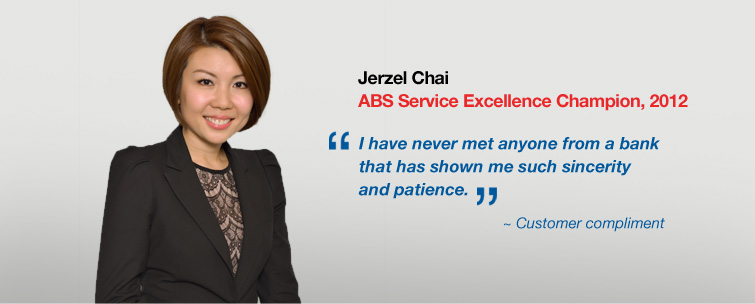 Going above and beyond to meet a customer's needs.
Jerzel noticed a customer looking rather distressed at the banking hall and quickly approached her to offer assistance. The customer informed Jerzel that she had slipped and fallen just before reaching UOB's Katong branch. She had intended to visit her supplier in Johor Bahru to make an urgent payment but was unable to do so as she had sprained her ankle.

To allay the customer's anxiety, Jerzel offered to drive the customer to visit her supplier so that she would not be penalised by them for late payment. A week later the customer visited the branch with a box of cakes to thank Jerzel for her thoughtful and caring gesture.

In her feedback to the Bank, the customer said, "I have never met anyone from a bank that has shown me such sincerity and patience. Thank you for helping me to drive to JB to settle my payments with my supplier. I truly appreciate what you had done. I will definitely introduce my family and friends to bank with you in the future."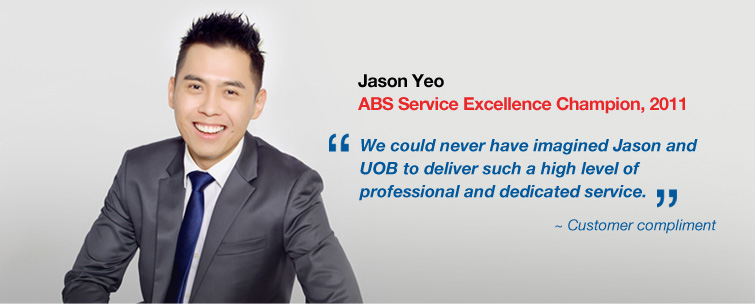 Building lasting relationships through service.
A customer visited the branch with her three young children to check on her husband's account as he was constantly travelling and did not have time for his banking matters. She was extremely upset when the counter staff could not disclose the information to her as the account was held solely in her husband's name. Jason quickly approached her to see how else he could assist but the lady vented her anger by throwing three cheques at him and stormed out of the branch with her children.

Jason picked up the cheques and decided to call the customer after she had cooled down. He also arranged to visit the customer after banking hours to see how he could assist her. He found out that her husband would be in Singapore for one day and arranged to meet him that Sunday morning. Jason introduced to him joint account ownership and highlighted the merits of using e-Banking as an alternative banking channel. The husband converted his account to a joint account with his wife and also signed up for e-Banking to enable him to transact while he is overseas. Through the Sunday brunch with Jason, both husband and wife deepened their banking relationship with UOB. The customers were truly touched by Jason's perseverance and professionalism in delivering effective solutions to them.

In their letter to the Bank, the couple wrote, "We could never have imagined Jason and UOB to deliver such a high level of professional and dedicated service. He has far surpassed the kind of service I had expected! Although our initial contact at branch was less than cordial, he had our best interest in mind and was relentless to offer tailored solutions to meet our needs. The recovery was more than sincere and genuine. We now have a friend from UOB. Needless to say, I will be recommending my friends to him. Stay on the pinnacle, Jason and keep up the good work!"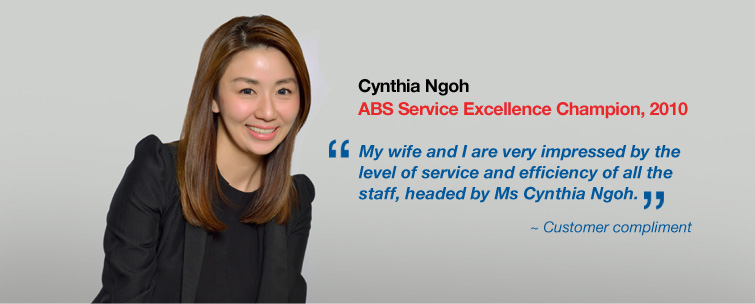 Bridging distances with commitment and dedication.
A customer who had just placed an option to purchase a property had to travel overseas to attend to an urgent personal matter for an indefinite period of time. Given the 14-day option and six-week completion period, the customer and his wife would not be able to return in time to exercise the option as well as to arrange for a housing loan to complete the purchase.

Cynthia immediately offered to meet the customer and his wife at the airport late at night just before their flight to obtain the documentation for the property purchase. She followed through on the whole process from the successful completion of the purchase of the property to the home loan being approved. She also kept in touch with the customers daily via email and phone calls when they were overseas and arranged for important documents to be couriered to them speedily.

The customers were very pleased with Cynthia's commitment and service and wrote to the Bank to commend her on her excellent service. Said the customer, "My wife and I are very impressed by the level of service and efficiency of all the staff, headed by Ms Cynthia Ngoh. As a result of their efficiency, we were able to complete the purchase of our property as scheduled. We would like to commend her on her prompt and effective coordination that facilitated our smooth completion of the purchase."