FAST

FAST (Fast And Secure Transfers) is a new electronic funds transfer service that enables customers of the participating banks to transfer Singapore Dollar funds from one bank to another in Singapore almost instantly. You no longer need to wait up to three working days for funds to be transferred between participating banks.


Benefits of FAST
1. Online funds transfer between accounts of the participating banks can be received almost instantaneously.
2. You will know almost instantly whether the online transfer is successful.
3. It is secure and convenient





Important Message:
UOB may provide links to websites not owned, controlled or maintained by UOB Group ("Websites"). Use of the Websites are at your own risk and subject to the terms and conditions of the Websites. UOB Group does not (i) provide any warranty on the Websites; and (ii) assume liability or responsibility for any content (or any failure thereof) offered at any Website or for any loss or damage suffered. Please click here for the full disclaimer. In the event of any inconsistency, differences or discrepancies between the Chinese version and English version of this Important Message, the English version shall prevail.
Participating Banks
FAST will be offered by the following banks:
ANZ Bank
Bank of China Limited
BNP Paribas
CIMB Bank
Citibank
DBS Bank
Deutsche Bank
Far Eastern Bank
HL Bank
HSBC
MayBank
Mizuho Bank Limited
OCBC Bank
RHB Bank
Royal Bank of Scotland
Standard Chartered Bank
Sumitomo Mitsui Banking Corporation
The Bank Of Tokyo-Mitsubishi Ufj, Ltd
United Overseas Bank
How to access FAST?
You can access FAST via one of the following ways:

1. UOB Personal Internet Banking or UOB Mighty app

Upon logging in, select Pay and Transfer > Transfer Funds. Select the "Other Bank" tab.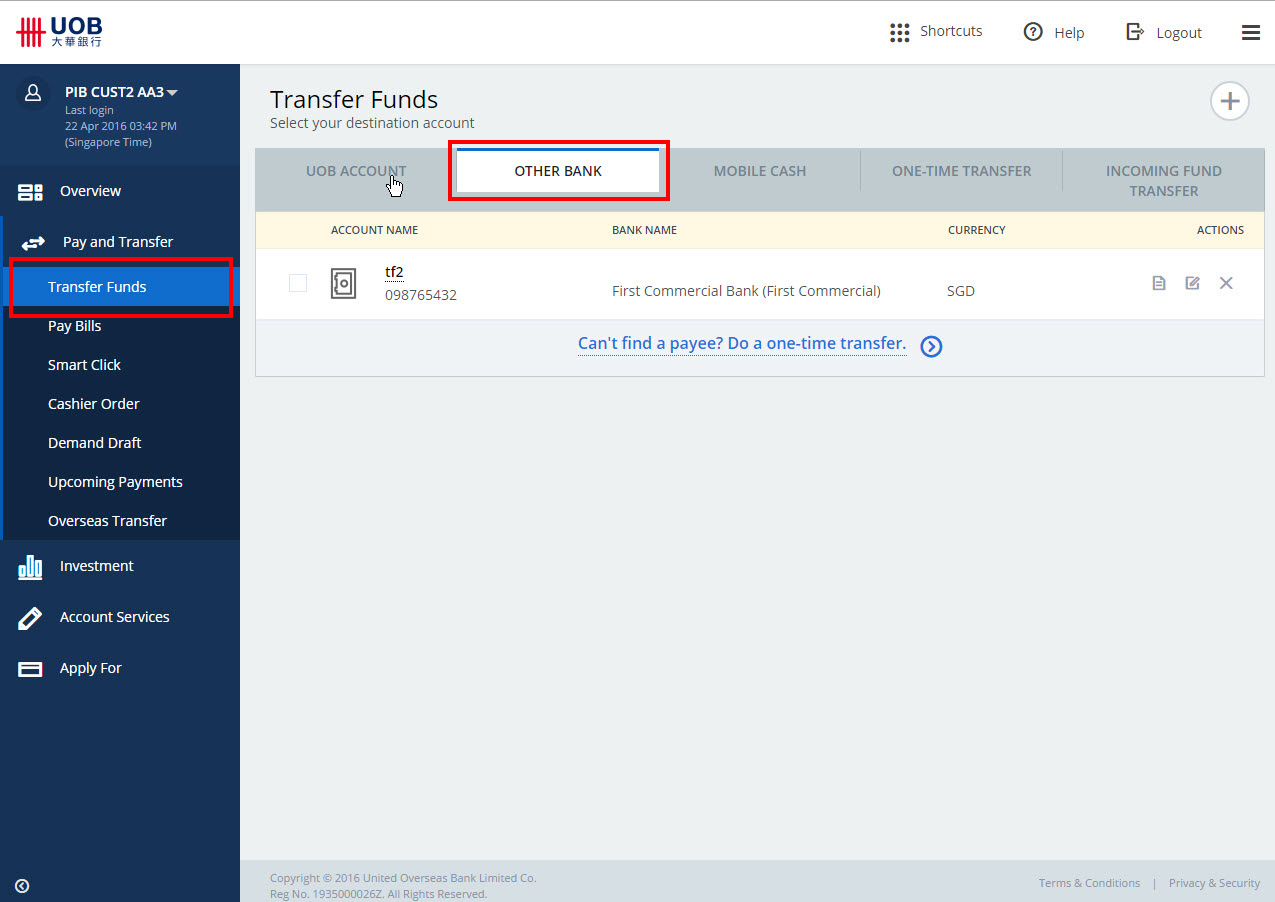 Fill in the transaction details and tick on the checkbox for "Fast Transfer". This way, your transfer to the recipient will be made almost instantly.

Without ticking on the checkbox, your transfer to the recipient will take up to 3 business days.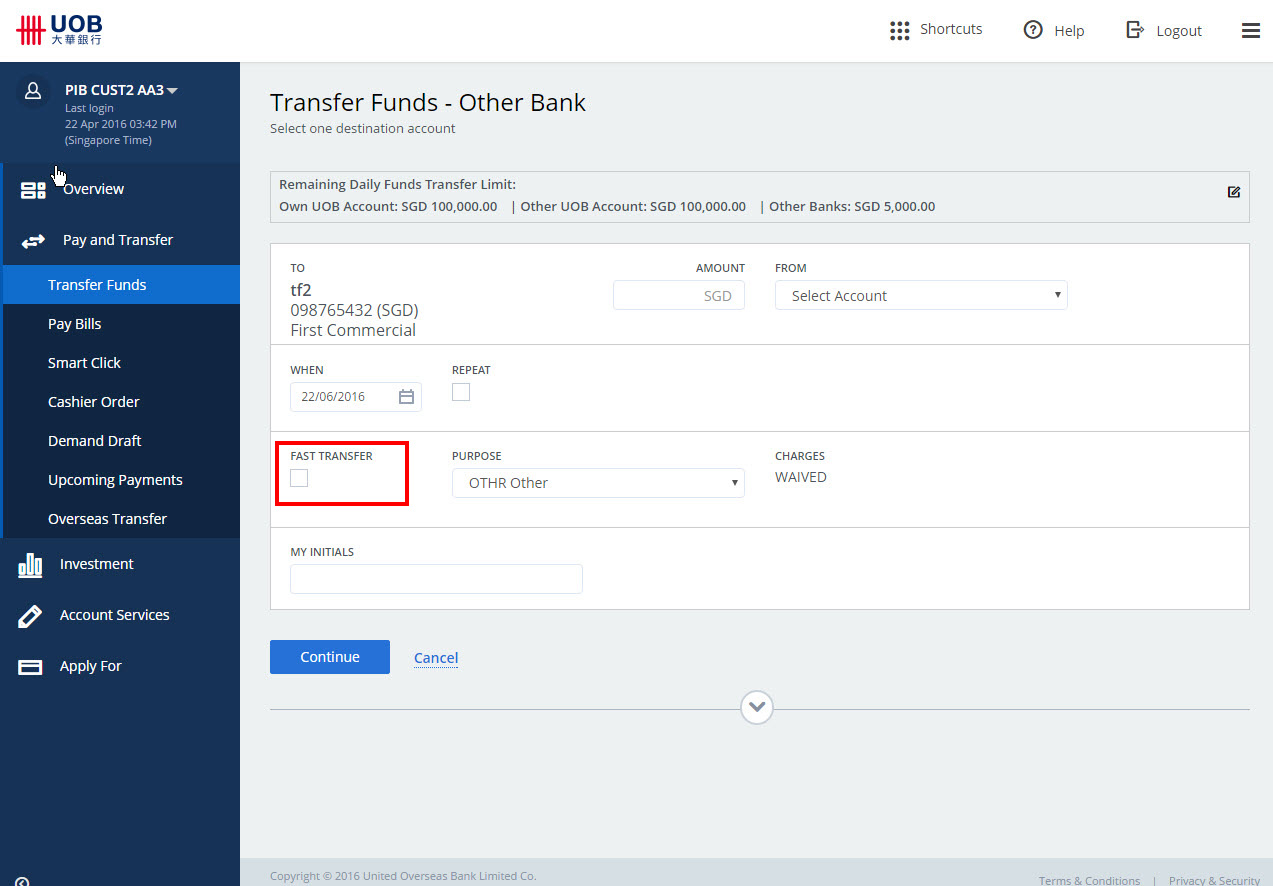 Once logged in, select "Pay or Transfer".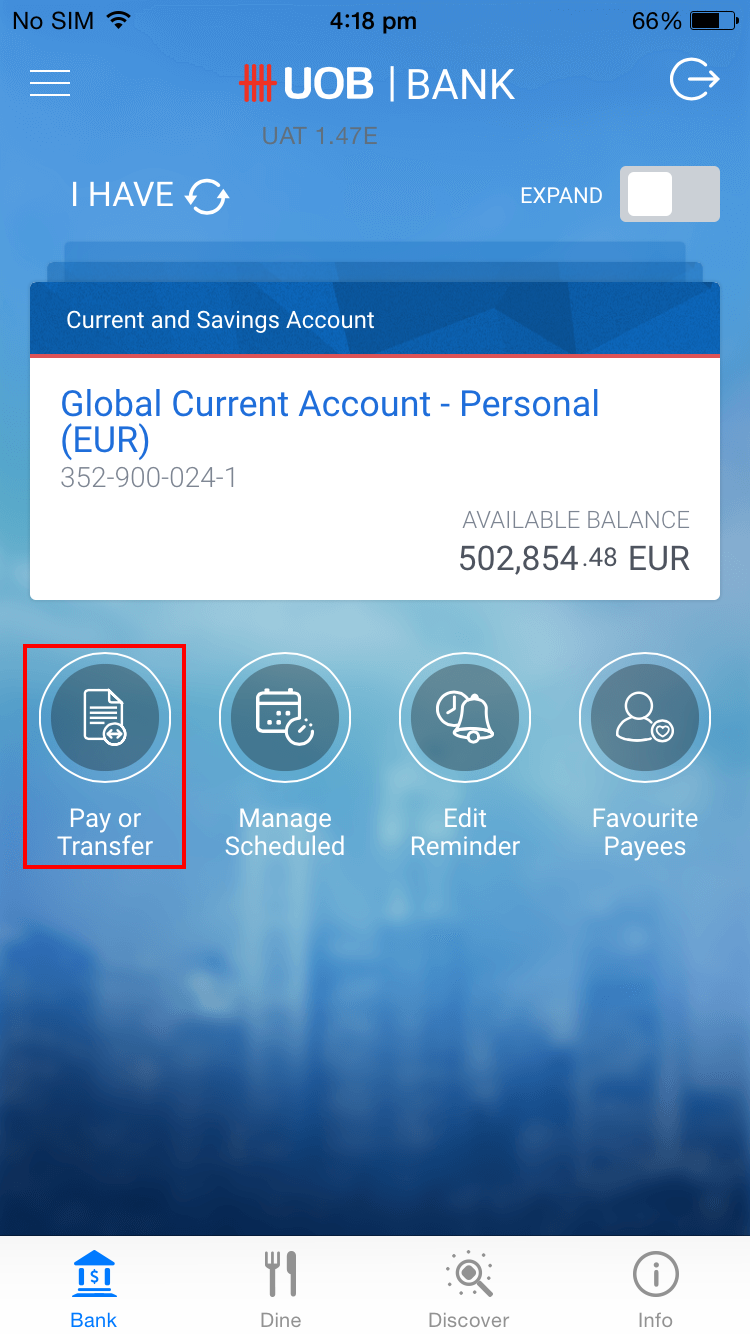 Select the "Other Accounts" tab and fill in the transaction details in the next few screens.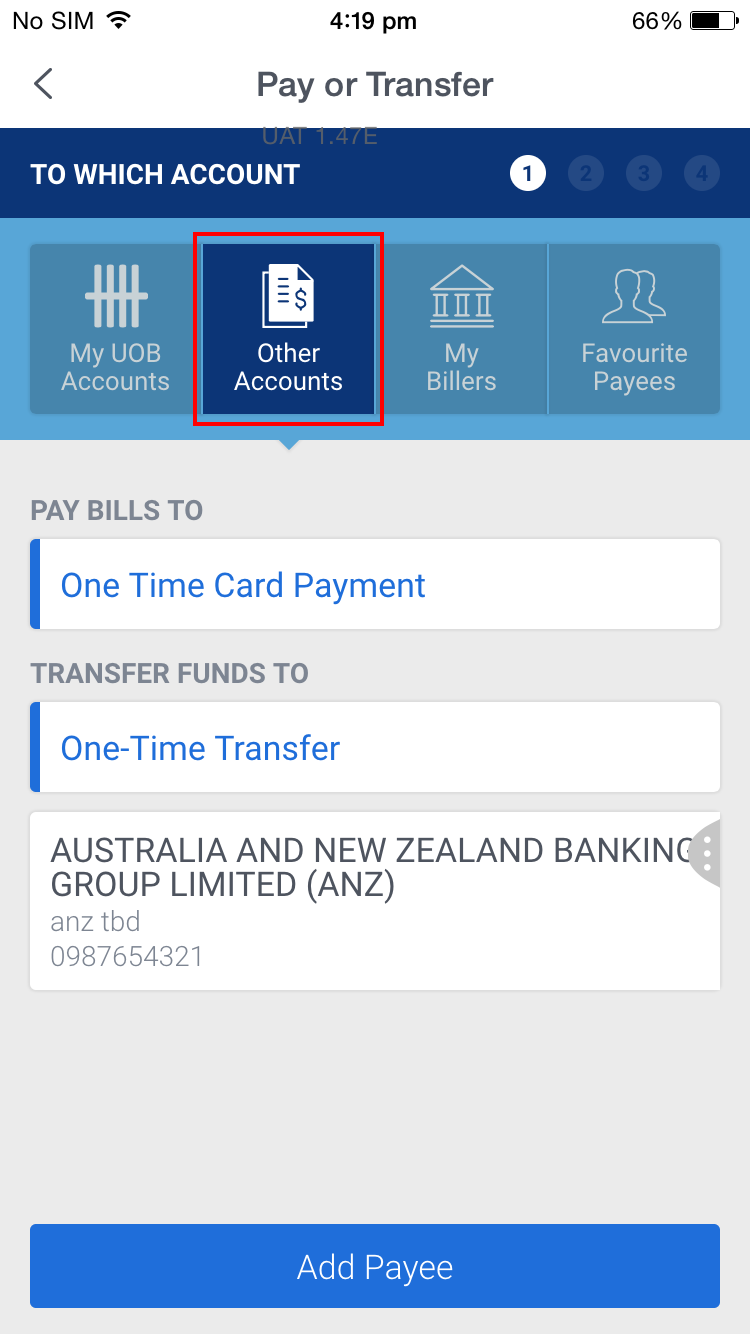 Select "Immediate" when you reach this screen.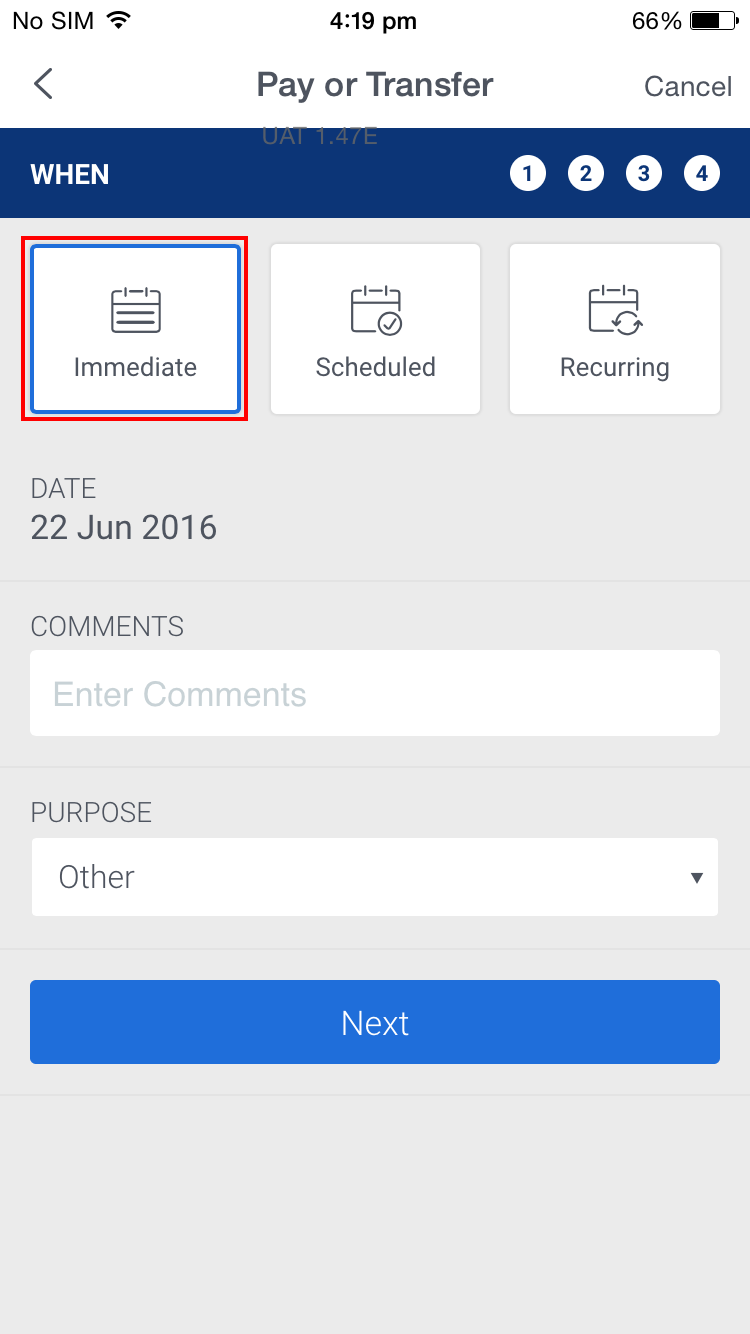 Proceed to confirm your transaction.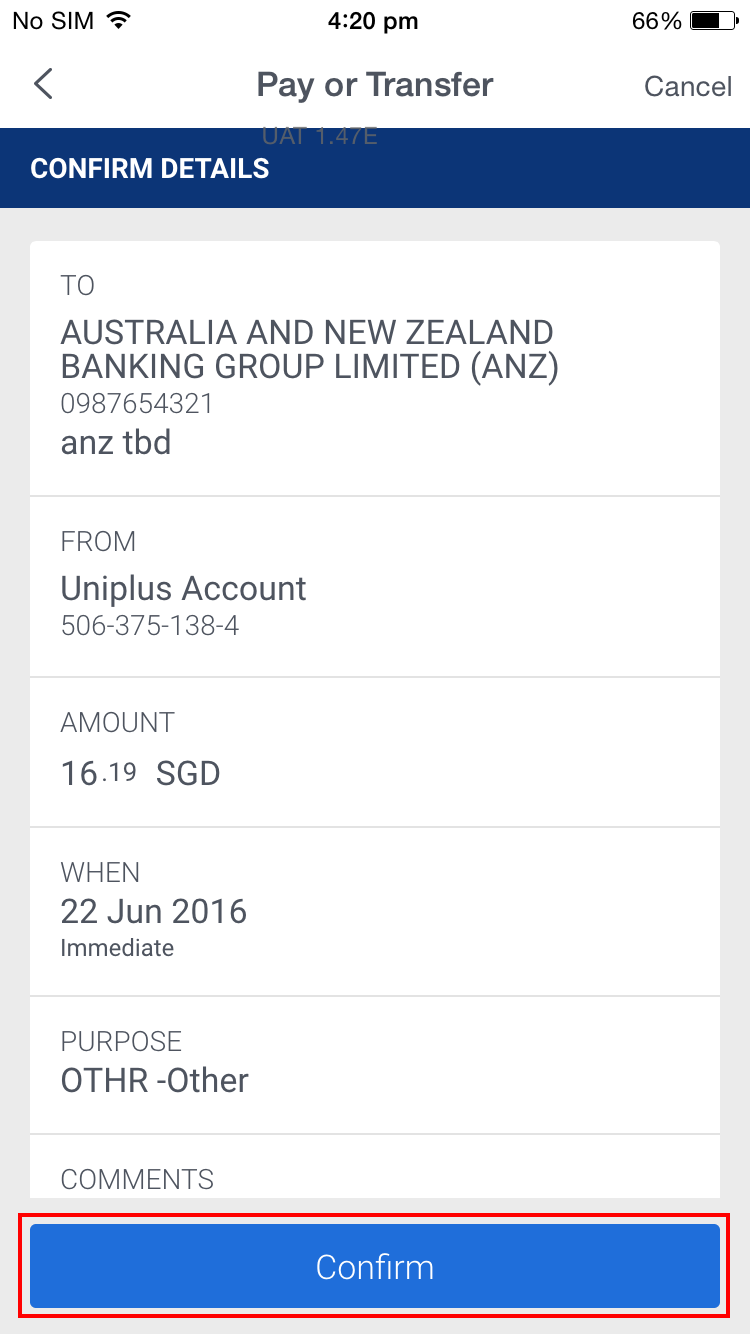 2. ATM
Insert UOB card and enter your PIN.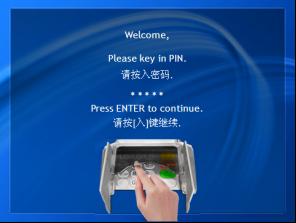 Select "Other Transactions".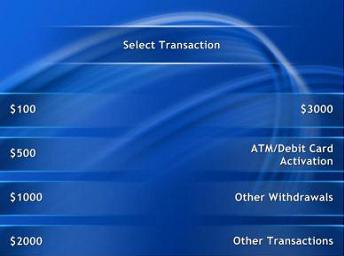 Select "Funds Transfer".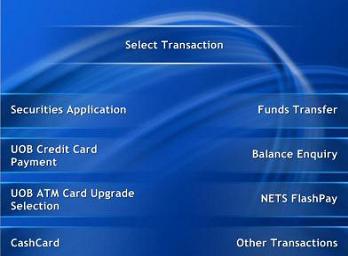 Select either "From Linked Current Account" or "From Linked Savings Account".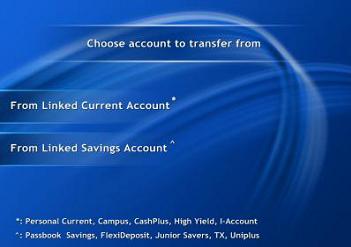 Select the account number to transfer from.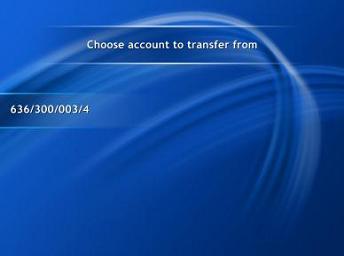 Select "To Other Bank's Account".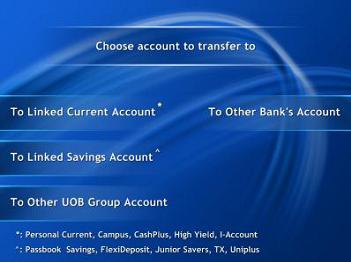 3. Branch
The transfer of funds will be effected within the same business day if the application is submitted from Monday to Friday (excluding public holiday), by 4pm.

Terms and Conditions
Purpose Code
| | | | |
| --- | --- | --- | --- |
| BEXP | Business Expenses | FWLV | Foreign Worker Levy |
| BONU | Bonus Payment | GDDS | Purchase Sale of Goods |
| CBTV | Cable TV Bill | GOVI | Government Insurance |
| CCRD | Credit Card Payment | GSTX | Goods & Services Tax |
| CHAR | Charity Payment | HSPC | Hospital Care |
| COLL | Collection Payment | IHRP | Instalment Hire Purchase Agreement |
| COMM | Commission | INSU | Insurance Premium |
| CPKC | Car Park Charges | INTC | Intra Company Payment |
| CSDB | Cash Disbursement | INTE | Interest |
| DCRD | Debit Card Payment | INVS | Investment & Securities |
| DIVD | Dividend | IVPT | Invoice Payment |
| DNTS | Dental Services | LOAN | Loan |
| EDUC | Education | MDCS | Medical Services |
| FCPM | Payment of Fees & Charges | NITX | Net Income Tax |
| OTHR | Other | SUPP | Supplier Payment |
| PHON | Telephone Bill | TAXS | Tax Payment |
| PTXP | Property Tax | TBIL | Telco Bill |
| RDTX | Road Tax | TCSC | Town Council Service Charges |
| REBT | Rebate | TRAD | Trade Services |
| REFU | Refund | TREA | Treasury Payment |
| RENT | Rent | TRPT | Transport |
| SALA | Salary Payment | UBIL | Utilities |
| STDY | Study | WHLD | With Holding |
FAQs
General

1. Why is there a need for FAST?

FAST was introduced in response to the increasing demand from consumers and businesses for faster and more efficient funds transfers. Currently, it can take up to three working days for customers to transfer money from one banking account to another across banks. With FAST, it is almost instant.


2. When will FAST be launched?

FAST will be launched at 8.00 am on 17 March 2014.


3. Why are there only 19 banks participating in FAST?

The decision to participate in FAST is based on individual banks' commercial considerations. The 19 participating banks account for the bulk of eGIRO transactions in Singapore. More banks may join at a later date.


4. Are transfers via FAST secure?

Yes. FAST is secure and adopts the same security standards established by the banking industry in Singapore for funds transfers.


5. Who can use FAST?

Customers with savings or current accounts at the participating banks can use FAST.


6. Can I make a funds transfer from a FAST participating bank to a non-FAST participating bank?

No, FAST only enables funds transfer between accounts of the participating banks in Singapore. Funds between a participating and a non-participating bank can be ;transferred via eGIRO.


7. Can I use FAST to transfer funds to a bank account overseas?

No, FAST can only be used for Singapore Dollar funds transfers between bank customer accounts of the participating
banks in Singapore.


8. What are the operating hours of FAST?

 FAST is available 24x7 via UOB Personal Internet Banking, UOB Mobile and all ATMs.

Availability of FAST via UOB branches is dependent on branch operating hours. FAST performed via UOB branches will be effected within the same business day if the application is submitted on Monday to Friday (excluding public holiday), by 4pm.


9. Do I have to pay to use FAST?

Fees will be waived for FAST performed via internet banking, mobile banking and ATMs. A fee of S$10 per transaction will apply for FAST transactions done at UOB branches.


10. What happens if I made a wrong funds transfer?

Bank customers should exercise due care when keying in the amount and bank account number, similar to using current ;electronic funds transfer services via UOB ATMs or ;UOB Personal Internet Banking. Funds transferred via FAST will be credited to the recipient's bank account almost instantly.
Please contact your bank immediately if you have made a wrong funds transfer.


11. Can I use FAST if I have the recipient's name only and not the account number?

No. The recipient's bank account number is required to use FAST. The recipient's name is only for reference purposes.


12. Will eGIRO continue to be made available?

Yes. You can still transfer funds using eGIRO.


13. What do I do when I encounter an error message when performing a FAST transaction?

You can contact us via the following ways:

Email
customer.service@uobgroup.com

Phone
Please call our 24-hour hotline 1800 222 2121 (or +65 6222 2121 when calling from overseas) for assistance.





Online Form

Internet/Mobile Banking

1. Do I need to use any hardware token for funds transfers via FAST on UOB Personal Internet Banking?

As in any existing fund transfer done via UOB Personal Internet Banking or UOB Mobile, you will need to use the SecurePlus token to securely add a new payee and/or authorise a high-value transaction which is above your security &nbspthreshold limits.


2. How will I know if my fund transfer via FAST is successful?

Simply log in to UOB Personal Internet Banking or UOB Mobile to check the status of your online FAST transaction 5 minutes after the online transaction is done. Upon logging, select Account Information > Online Transaction Status > Funds Transfer.



3. Will UOB alert me once the fund transfer is successfully made?

You can subscribe to UniAlerts to receive SMS or email notification for funds transfers you have performed. To subscribe for UniAlerts, simply login to UOB Personal Internet Banking and select Security Preference > UniAlerts Subscriptions.


4. Are there minimum and maximum transaction limits for using FAST?

There is no minimum transaction limits for FAST. The default Funds Transfer to Other Bank accounts daily limit is S$5,000. For Wealth Banking/Privilege Banking/Privilege Reserve/Private Banking customers, the default daily limit is S$10,000.


5. Can I use FAST to pay credit card bills and make loan payments?

You can use FAST on participating banks' Internet Banking websites to make a funds transfer to your UOB Credit Card (15/16 digit card number)*.

FAST payments will be credited to your UOB credit card almost immediately but the transaction will only be shown the following day. Your credit balance will however be reflected and available immediately.

*Subject to the participating bank's capability to support up to 16 digits account number.

Loan payment on FAST is not available.



6. What do I do when I encounter an error message when performing a FAST transaction?

You can contact us via the following ways:

Email
customer.service@uobgroup.com

Phone
Please call our 24-hour hotline 1800 222 2121 (or +65 6222 2121 when calling from overseas) for assistance.



Online Form

ATM

FAST (Fast And Secure Transfers) is an electronic funds transfer service that allows customers to transfer SGD funds almost immediately between accounts of participating banks in Singapore.

FAST enables almost immediate receipt of money. You will know the status of the transfer by accessing your bank account via internet banking, ATMs or via notification alerts offered by the participating bank. FAST is available anytime, 24x7, 365 days.



1. What is FAST at ATMs?

This new feature allows customers to perform funds transfers almost immediately to any of the participating banks
using a UOB Card at any UOB ATM islandwide.


2. Which are the participating banks?

Currently the participating banks are:- .



ANZ Bank
Bank of China Limited
BNP Paribas
CIMB Bank
Citibank
DBS Bank
Deutsche Bank
Far Eastern Bank
HL Bank
HSBC

MayBank
Mizuho Bank Limited
OCBC Bank
RHB Bank
Royal Bank of Scotland
Standard Chartered Bank
Sumitomo Mitsui Banking Corporation
The Bank Of Tokyo-Mitsubishi Ufj, Ltd
United Overseas Bank




3. When is this feature available at all ATMs?

This feature will be progressively implemented to all ATMs commencing from 24 March to 9 April.


4. Is FAST to other participating bank 24 x 7?

Yes, it is 24 x 7 from any UOB ATM. Please check with your payee bank for the specific FAST operating hours.


5. Which are the valid account types that I can use to perform the funds transfer?

All Savings and Current account types that are currently available for ATM funds transfers can be used to perform FAST funds transfers.

Current account types Personal Current, Campus, CashPlus, High Yield, I-Account etc

Saving account types Passbook Saving, FlexiDeposit, Junior Savers, TX, Uniplus etc


6. Can I use FAST at ATM to transfer funds to a bank account overseas?

No, FAST can only be used for Singapore Dollar funds transfers between bank customer accounts of the
participating banks in Singapore.


7. I am a corporate customer. Can I perform FAST at UOB ATM?

Corporate customers will not be able to do FAST at ATMs. Please perform funds transfer either on Business Internet Banking or at any UOB Branches.


8. How is this different from the existing UOB/OCBC funds transfer at ATM?

The existing funds transfers feature requires a UOB card with linked bank accounts to be used at OCBC ATMs for transfer to a OCBC bank account.


9. The amount had been debited from my UOB account but not credited to my payee's bank account. What should I do?

Please contact your bank for assistance.


10. Is there a transaction fee imposed for FAST at ATM?

Currently the transaction fee is waived.


11. What will happen if I sent the funds to an incorrect account via FAST?

Bank customers should exercise due care when keying in the amount and bank account number similar to using current electronic funds transfer services via UOB ATMs or UOB Personal Internet Banking. Funds transferred via FAST will be credited to the recipient's bank account almost instantly.

Please contact your bank immediately if you have made a wrong funds transfer.


12. What is the daily transfer limit for FAST at ATM?

The daily funds transfer limit is $3,000. This limit is shared with funds transfer to other UOB account and OCBC account.

Example

Customer performs a transfer of $1000 to other UOB account and $1000 to OCBC account. He will then be able to transfer another $1000 using FAST funds transfer.


13. Will a SMS alert be sent to me when I perform FAST at an ATM?

You can subscribe to the alert via UOB Personal Internet Banking Unialert subscription services or by completing the Transaction Alerts For ATM and Other Banking Services form.

Below is a sample of the SMS alert that you will receive once your alert threshold limit is reached.

'An ATM Funds Transfer of SGDX,XXX.XX was performed on your UOB account ending with XXXX on DD/MM/YYYY to a <Bank Name's Abbreviation> a/c. If unauthorised, please call
+65 62222121.'